Canadian cowboy trains British soldiers to spot IEDs
The British Army has recruited a Canadian cowboy to teach soldiers how to look for improvised explosive devices (IEDs) hidden in the ground when deployed in Afghanistan.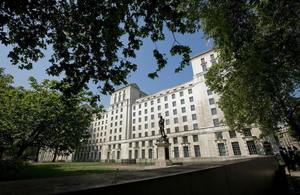 The cowboy is professional tracker Terry Grant, aged 52, who is famed for his hit reality television show 'Mantracker' in which he tracks contestants over vast swathes of the Canadian wilderness.
He has now been employed to pass on his unique ground sign awareness skills to the soldiers of 7th Armoured Brigade (the Desert Rats) who are set to deploy to Afghanistan next year.
The Desert Rats are currently training on Exercise Prairie Thunder 1 at the British Army Training Unit Suffield (BATUS) located in the heart of the vast plains of Alberta in the west of Canada.
When an IED is laid, the ground is disturbed either by physically digging the device in or by the insurgent leaving tracks as he moves around. Ground sign awareness is about recognising these clues and therefore identifying a potential IED location and reducing the risk.
Terry's show, Mantracker, sees two contestants take off into the bush with a map, a compass and a head start. They have 36 hours to reach a finish line some 40km away without getting caught - how they escape is up to them.
Terry, who is on horseback without any navigational aids, doesn't know their exact start or finish points. His job is to track them searching the ground for clues before they reach the finish line.
Terry, who has spent over 25 years as a cowboy working ranches across Alberta, is also a search and rescue volunteer and has spent a lifetime honing his skills on hunting trips. He jumped at the opportunity to work with British forces and trial a new training idea.
He said:
I was asked if I could provide some basic ground and track awareness training. It has been good fun to work with the soldiers; at first they didn't really get it, but as soon as they realised what I was trying to teach, they all picked it up and hopefully learnt something that can help them.

If only one of these guys takes away what he has been shown today and recognises something out of the ordinary that saves his life, then I have done my job. If he remembers that 'tracker guy stuff' then it has been worthwhile.
Private Rikkie Jennings, aged 23, from Lichfield in Staffordshire, who serves with 3rd Battalion The Mercian Regiment (Staffords), said:
I've never done anything like this before and I am sure it will be useful in Afghanistan. It was difficult to see at first but we soon got the hang of it.
While in previous years British military exercises in Canada have been conducted with a cold war mentality, dealing mainly in conventional heavy artillery warfare, Exercise Prairie Thunder has evolved training to focus on hybrid warfare, covering everything from the conventional enemy to counter-insurgency and peace support operations.
The Desert Rats' Chief of Staff, Major Richard Bell, came up with the idea to introduce ground awareness searching techniques into soldiers' training after watching Mantracker on Canadian television. The idea is now being reviewed to decide whether it should be developed further.
Published 29 July 2010