Press release
Can you help Kendal in an emergency situation?
Local groups encouraged to help develop Kendal's emergency plans with the Environment Agency 11 February 3pm -7:30pm at Kendal Town Hall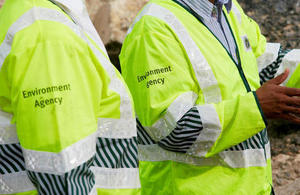 The Environment Agency is working with South Lakeland District Council and Cumbria County Council to encourage local residents and organisations in the Kendal area help develop the town's emergency plan.
The plan would be used if the town faced another emergency like the flooding of 2004 and 2005.
Since these events, the Environment Agency has completed work on the Kent and Mint embankments protecting the Mintsfeet and Lakeland Business Park areas of the town.
The session is looking for groups and organisations that may be able to offer help if Kendal experienced an emergency situation in the future. Help can be offered in many ways they could include things like: coordinating volunteers; operating telephones; helping with catering; 4x4 driving; or tree surgery. Other types of support could be the loan of equipment, local knowledge and making premises available.
Marina Powell-Currie from the Environment Agency said:
We have worked hard to reduce the risk of flooding to the town, but we can never remove it completely so we are asking local people to support their town and tell us what they can offer.

We feel lots groups will be able to offer something which will be helpful to support the town in an emergency, and these offers could potentially form an important element of an emergency plan for the Kendal community.

Although we can never completely remove the risk facing the town we can plan and be prepared for future emergencies.
If you would like to attend the session or would like more information please contact Debbie Binch, Community Engagement Officer on 07917 263789 or email her at debbie.binch@environment-agency.gov.uk
Interview opportunity: Maria Ullyart from the Environment Agency will be available for interview between 4:30-5:00pm at the Town Hall. Please call 01925 542621 to confirm a time slot.
Published 4 February 2015