Can there be a single EU foreign policy?
Minister for Europe David Lidington argues for 'intense and systematic' cooperation in EU foreign policy.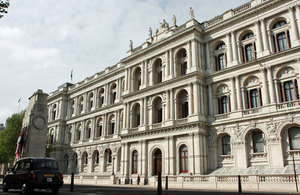 In a roundtable debate on EU foreign policy on 12 July, the Minister for Europe outlined alternative visions of EU foreign policy, and argued for an approach that allows the EU to respond quickly and flexibly, using the expertise of the Member States and the collective weight of the EU, acting on agreed principles.
The debate was hosted by Open Europe and FAES (Spanish think tank, Foundation for Analysis and Social Studies) and chaired by Mats Persson, Open Europe Director. Other panellists in the discussion were Jorge Moragas MP International Relations Secretary and Coordinator of the Presidency of the Partido Popular, Gideon Rachman, Chief foreign affairs commentator, Financial Times and Gisela Stuart, Labour MP for Birmingham Edgbaston.
Opening the debate, the Minister for Europe called for 'intense and systematic co-operation' in external relations, based on clear principles, trust and mutual respect. He said that this approach "marries the advantages of coordination with the need to respect the core principle of national sovereignty. It is what Europe envisaged when it created the External Action Service." He said he wanted to see the EU focusing on Europe's neighbourhood, strategic partners such as China and Russia, and conflict prevention and peace-building. In the wide-ranging discussion that followed, participants discussed the EU's role on the Cyprus problem, Turkey, consular services, trade, and recent events in North Africa.
Published 12 July 2011