Campaign launched to help tackle international parental child abduction
Every other day a British child is abducted by a parent to a country which has not signed the 1980 Hague Convention on international parental child abduction, according to new research released today by the FCO.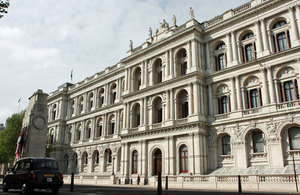 In practice this figure is likely to be even higher as many cases are simply not reported.
The latest figures represent a 10% increase in new cases handled by the FCO in 2010/2011 and have been released to mark the launch of their child abduction prevention campaign.
Evidence shows that many cases occur around school holidays when a parent refuses to return a child following a visit to the parent's home country.
FCO figures also reveal just how widespread the problem has become. Last year the FCO handled cases in 97 'non Hague' countries ranging from Afghanistan to Zimbabwe. These are countries which have not signed up to the 1980 Hague convention on international parental child abduction and with whom negotiating the return of children to the UK can be extremely complex as there are no international agreements on returning children.
Foreign and Commonwealth Office Minister Jeremy Browne said the campaign will help people become more aware of what they could do if they think their child may be at risk.
"We are very concerned that we continue to see an increase in the number of cases of international parental child abduction. The latest figures suggest the problem affects people from all walks of life and not just certain types of families or particular countries. Finding a solution can be especially difficult if a child has been taken to a non-Hague country as there are no international systems in place to help you. This is why prevention is so important. The FCO will do whatever we can to provide advice and support but our role is limited, not least because we cannot interfere in the laws of another country."
The FCO has teamed up with leading parenting websites Mumsnet and the Fatherhood Institute to spread the prevention message and make people aware of the support it can provide. The campaign will be one of Mumsnet's campaigns of the week in July.
Sharon Cooke, Advice Line Manager for Reunite International Child Abduction Centre, welcomed the latest advice and said while sometimes there were no warning signs, there are things people could look for which may indicate their child was at risk.
"The most obvious warning sign is a break down in a relationship but other signs may include a sudden interest in getting a passport or copy birth certificate for the child; a parent expressing a wish to holiday alone with the child; a change in circumstances such as leaving employment or redundancy, selling a house or giving up tenancy. There may also be a sudden change in contact arrangements or constant difficulty in being able to see the child," she said.
"For many people the issue of parental child abduction is something with which they may not have had direct personal contact. There's often a perception - fuelled by a number of high profile cases - that it's about fathers abducting their children, however statistics show it is mainly mothers - either intentionally or unintentionally.
Sharon says: "The latest figures show just how widespread this problem has become. Our statistics for January to May 2011 show a 21% increase in the number of abductions to non-Hague States states compared to the same period last year. We have also seen a 21% per cent increase in the number of parents requesting advice on prevention of abduction. This demonstrates there is a need for information on preventative steps that a parent can take and it is essential that we continue to raise awareness of parental child abduction, after all it could happen to anyone.
The psychological impact on children can be traumatic and for the left-behind parent, the shock and loss are unbearable, particularly if they don't know where their child is. Even after they have been found, the fear and pain of not knowing if they will return home is unimaginable."
"If you are worried your child might be at risk, or if your child has been abducted you can call the Child Abduction Section at the Foreign Office on 0207 008 0878 or www.fco.gov.uk or reunite on 0116 2556 234.
Published 29 June 2011