Press release
Campaign calls for businesses to help tackle youth unemployment
Businesses are being challenged to get involved to help tackle youth unemployment.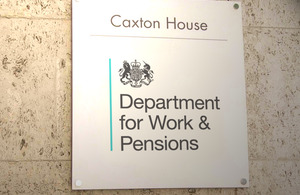 Businesses are being challenged to get involved to help tackle youth unemployment by Employment Minister, Mark Hoban, who has today (November 20) launched the Government's 'Youth Contract: Works for me' campaign.
Over the next two weeks the Department for Work and Pensions will be promoting the campaign in newspapers and on radio in areas with high levels of youth unemployment. Targeted at employers, it aims to raise awareness of the benefits of giving a young person a chance through the Youth Contract.
The £1bn Youth Contract, which launched in April, will provide nearly half-a-million new opportunities for 18-24 year olds, including apprenticeships and voluntary work experience placements.
Businesses may also get a payment of up to £2,275 for any young person they employ who is taking part in the Work Programme.
Minister for Employment Mark Hoban said:
Local businesses around the country are vital in tackling the problem of youth unemployment, and I want to make sure they take advantage of all the help we're offering them.

With extra work experience places and wage incentives we're giving young people the skills they need to find work, and cutting costs for business to employ them.

I'm urging businesses - whatever their size - to make a commitment to our young people and give them a chance to show what they can do.
To find out how the Youth Contract can work for them, employers can call Jobcentre Plus on 0845 6012001 (option 2), or visit online: www.dwp.gov.uk/youth-contract
Notes to Editors:
The key elements of the Youth Contract are:

160,000 wage incentives worth up to £2,275 each for employers who recruit an 18 to 24 year old through the Work Programme or Jobcentre Plus.
An extra 250,000 work experience (available across Great Britain) or sector-based work academy places (available in England and Scotland).
A further 20,000 Apprenticeship Grants for Employers, to encourage small and medium employers to recruit their first 16 to 24 year old apprentice, taking the total number to 40,000 (in England only).
Additional support through Jobcentre Plus by way of more adviser time and weekly contact.
An opportunity to have a careers interview with the National Careers Service (in England).
Around £120m to help the most vulnerable 16/17 year old NEETs (not in employment, education and training) in England back into education, training or a job with training.

The campaign will run in Barnsley, Blaenau Gwent, Caerphilly, Hartlepool, Hull, Middlesbrough, Northumberland, Redcar & Cleveland, Rotherham, South Tyneside and Sunderland.
Media enquiries: 0203 267 5085 Out of hours: 07659 108 883
Published 20 November 2012