Camila Batmanghelidjh on the compassion of the British public and their love of the eccentric
In a Foreign Office film launched today, the Iranian-born Founder and Director of Kids Company highlights the unique attributes that have enabled the charity to become so successful.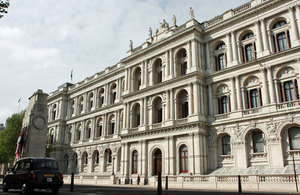 The film is one of the 'See Britain through my eyes' series featuring individuals from abroad talking about their experiences of modern Britain in the run up to the London 2012 Olympic & Paralympic Games.
In her short 'See Britain' film, Camila charts Kids Company's history. The charity started modestly in a building under a few disused railway arches. It has grown into an organisation with 6,000 volunteers and a budget of £12million, reaching 14,000 children across London - many of whom are considered at risk and living in deprived communities. Camila attributes its exponential growth to the generosity of the UK public. Find out more by watching the film below.
Camila says the British people embraced her colourful personality and appearance and "it's precisely the appreciation the British have for those who dare to do things differently that makes this country so exciting to live in." Born in Iran, she came to the UK aged nine and founded her first charity "The Place to Be" in her twenties, before setting up Kids Company in her thirties.
A psychotherapist for more than twenty years, Camila has developed a unique and pioneering approach to delivering services to vulnerable children. The film shows her at an exhibition at the Saatchi Gallery earlier this year, where some children being helped by Kids Company are displaying art. She remarks that it's incredible that this exhibition is being held in such a high profile gallery, describing this as "an amazing testament of the commitment of people high up in British society to the welfare of children."
Published 16 December 2010