Cameroon Women's Scholarship 2nd edition award
9 women awarded CFA 1 million each to take on masters degree courses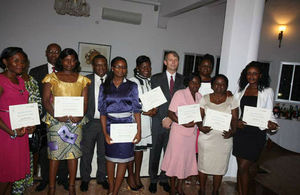 The British High Commission Yaounde through its scholarship scheme, "The Cameroon Women's' Scholarship" has awarded scholarships to nine female Cameroonians to take on masters degree program in 8 universities in Cameroon.
The nine ladies who emerged successful after an intense screening process would take their full masters courses within this current academic year in the following fields: Engineering Sciences, Communication, Development Studies, Human Rights and Law
Background
In line with the 2011 Commonwealth Day theme which was "Women as agents of Change", the British High Commission Yaounde decided to set up a local scholarship scheme - "The Cameroon Women's Scholarship". This program aims at training women with leadership potentials at masters degree level within state and private universities in Cameroon and by so doing empower them to become active participants of their country's development.
Names of candidates, courses and schools
Nchafack Almighty Nkengateh/the International Relation Institute of Cameroon/ MA International Communication & Public Action
Glory Esubu Forteh Epse Kimbeng/ the University of Dchang/ MA Human Rights Law
Butake Nyanyo Layih/ University of Douala/ MA Corporate Communication
Tatangang Mbify Dilys Epse Chafa/ National Advanced School of Public Works/ MSc. Geotechnical Studies and Structural Calculations
Stella Ngeh Asaha/ Pan African Institute of Development- West Africa/ MA Environmental Development
Ngum Rosaline Neba/ Cameroon Christian University- Kumba campus/ MA. Development Studies
ASaah Albertine Awawing/ University of Bamenda/ MA development studies
Ngamgo Harel Nouadjie Marie Claude/ National Advanced School of Public Works/ MSc.Geotechnical Studies and Structural Calculations
Anne Hélene Gaelle Hiom II Epse Ekure Takor/ Catholic University for Central Africa/ MA Development & Project Management in Africa
Published 5 December 2013