World news story
Cameroon: Remembrance Sunday service 2016
UK in Cameroon Commemorates the centenary of World War I and the screening of the Battle of the Somme.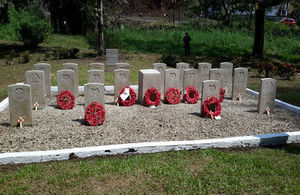 It was a warm Sunday morning in the beautiful and tranquil setting at the Commonwealth War Graves site in the Limbe Botanical garden that the dead of both World Wars and of subsequent conflicts were commemorated. After the opening prayers , the British High Commissioner, the Chargé d'Affairs of the German Embassy, the Minister for Commonwealth and the Secretary of State in charge of Ex-service men at the Ministry of Defence each laid wreathes on the graves. At exactly 11:00 am the two minutes silence was observed.
This year's edition of the memorial service is special as it marks the centenary of the "Battle of the Somme", one of the largest battles of World War I. The evening before the Remembrance Service, the British High Commission projected "the Battle of the Somme" documentary at the Buea Council Chamber in the South West Region of Cameroon. Both events were attended by the Minister for Commonwealth, Joseph Dion Ngute, the Secretary of State at the Ministry of Defence in charge of Ex- Servicemen, Koumpa Issa, the Governor of the South West Region, Mr. Bernard Okalia Bilai, the military, traditional rulers, MPs and the media.
Addressing the public after both events, the British High Commissioner, H.E. Brian Olley Said:
On this historic 100th anniversary of this terrible battle, I am pleased to hold the commemorative events with the support of our German colleagues including an inter-denominational service in Limbe. My sincere thanks to the Mayor of Buea and his council officers for their generous support.

Our thoughts should be with the courageous Cameroonian soldiers and others in the security forces currently bravely fighting terrorism in the North of Cameroon, and to the forces of all other countries in the region.
Published 18 November 2016