World news story
Cameroon - Chiefs agree to end Violence Against Women and Girls
14 West Region Chiefs signed the deal during a British High Commission funded project entitled "Western Chiefs Sexual Violence Initiative"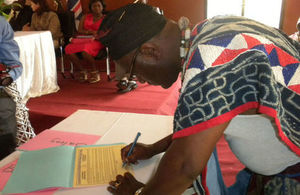 14 Traditional rulers from the BAYANGAM, BATOUFAM, BAHAM, BALATCHI, BAHOUAN,BAFOUSSAM, BAMOUGOUM, BAMEKA, BAMESSINGUE, BAPA, BALENG, BABADJOU chiefdoms signed the agreement on the 27th March 2015.
The agreement to fight Violence against Women and Girls was part of a project entitled "Western Chiefs Sexual Violence Initiative" funded by the British High Commission in Cameroon as part of the UK's effort to promote the rights of women in Cameroon.The aim of the project is to improve local leader's awareness on violence against women and other discriminatory activities in their traditional practices. The project is breaking down socio-cultural barriers women face in the community in reporting and seeking help as victims of gender-based violence and also signalling to perpetrators that erstwhile condescending local leaders are changing their attitudes and community practices. At the end of the project, 14 traditional rulers publicly signed a statement with the following content:
Ensure that customs and traditional dispositions that violate rights of girls/women, affect their health and wellbeing will be reviewed
Violent practices tolerated against women will be repealed
Ensure the equal treatment of men and women
Ensure victims have access to health and judicial help
Ensure perpetrators of sexual violence are pursued according to the law
The chiefs and their councils now understand that some of their traditional practices are breaking the law and women are now reporting cases of abuse. The project is influencing the powerful traditional authorities to adapt their treatment of women and girls to international standards.
The project implemented by the Modern Advocacy Humanitarian Social and Rehabilitation Association-MAHSRA also saw the chiefs receiving training on human rights and especially on Sexual Violence Against Women on the 20th Novmeber in Yaounde. The aim of the conference is to get these chiefs establish their own sexual violence addressing mechanisms in their councils that meet international human rights standards; implementing the public declarations they signed up to earlier in April 2015.
British High Commissioner, H.E. Brian Olley speaking at the conference said " Ending violence against women and the girl child is a real priority for the UK and around the world". He applauded the decision by tradional chiefs to end violence against women and girls in the West region and expressed the wish to see more chiefs in other regions take a similar step.
Published 20 November 2015