News story
Cambridge based project named most enterprising in Europe
The Outset Project run by YTKO has picked up the Grand Jury prize at the European Commission's European Enterprise Promotion Awards 2012. …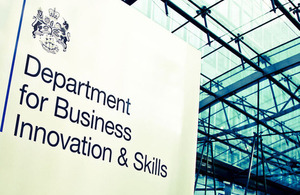 The Outset Project run by YTKO has picked up the Grand Jury prize at the European Commission's European Enterprise Promotion Awards 2012.
The project was chosen for its approach to supporting start-ups by helping vulnerable groups of people find work through self employment and enterprise. The project is designed to change people's beliefs about their ability to start a business.
The project works with local authorities across the country and meets people in places such as community group meetings, job centres and libraries. They work alongside their clients providing help and business support through mentoring.
Business Secretary Vince Cable said:
"It is great news for YTKO that its approach in promoting enterprise to disadvantaged and vulnerable groups in the UK has been recognised. They have shown that if you have the passion to start a business you can make it a success. Their achievements will ultimately help to boost jobs and growth across the country and they are to be congratulated."
Since the start of the programme, Outset has engaged with over 6,000 people. Of those, 1200 have started a business, together creating 1400 jobs.
Vice-President of the European Commission, Antonio Tajani, responsible for industry and entrepreneurship said:
"The remarkable work of this year's entries proved just how crucial a time it is for Promoting Entrepreneurship across Europe. Entrepreneurship can be truly transformational for individuals and communities. It is important to recognise the value of organisations like the Outset project which help to create a platform for new start-ups. In the current economic climate we need more such initiatives. Therefore I will table an entrepreneurship action plan before the end of 2012 to encourage more Europeans to become their own boss."
It's the second success for the programme after they won the Department for Business, Innovation and Skills' (BIS) Enterprising Britain Awards title for 'Promoting Enterprise'. As a result they were shortlisted for European Commission's promoting enterprise and entrepreneurship award category.
**Note to editors:
**1. Full winners of this year's Enterprising Britain Awards were:
Most Enterprising Place - Northamptonshire County Council

Promoting Enterprise - YTKO Outset Programme

Encouraging Export - Northamptonshire County Council

Judge's Special Award - Darwen Aldridge Community Academy
For more information about the award winners visit http://www.bis.gov.uk/enterprising-britain.

The European jury selected winners around five categories and awarded the Grand Jury Prize to the entry that was considered to be the most creative and inspiring initiative promoting entrepreneurship overall. For more information on the European Commission's European Enterprise Awards visit http://ec.europa.eu/enterprise/policies/sme/best-practices/european-enterprise-awards/index_en.htm.

The Government's economic policy objective is to achieve 'strong, sustainable and balanced growth that is more evenly shared across the country and between industries'. It set four ambitions in the 'Plan for Growth' (PDF 1.7MB), published at Budget 2011:
To create the most competitive tax system in the G20

To make the UK the best place in Europe to start, finance and grow a business

To encourage investment and exports as a route to a more balanced economy

To create a more educated workforce that is the most flexible in Europe.
Work is underway across Government to achieve these ambitions, including progress on more than 250 measures as part of the Growth Review. Developing an Industrial Strategy gives new impetus to this work by providing businesses, investors and the public with more clarity about the long-term direction in which the Government wants the economy to travel.
BIS's online newsroom contains the latest press notices and speeches, as well as video and images for download. It also features an up to date list of BIS press office contacts. See [http://www.bis.gov.uk/newsroom](http://www.bis.gov.uk/newsroom) for more information.
Notes to Editors
Contact Information
Name BIS Press Office Job Title
Division Department for Business, Innovation & Skills Phone
Fax
Mobile
Email bispress.releases@bis.gsi.gov.uk
Name Dan Palmer Job Title
Division Department for Business, Innovation and Skills Phone 020 7215 5303 Fax
Mobile
Published 16 November 2012