News story
Calling all robots - Sellafield challenges launched
Remote working at height, moving special nuclear materials, and inspecting packages are three challenges that Sellafield Ltd is looking to robots to help with.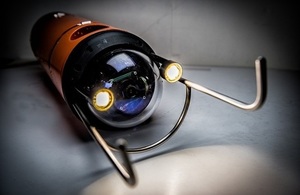 People from across Sellafield Ltd and the supply chain gathered at a robotics and innovation event in West Cumbria today to hear how the development and innovative use of technology is key to the clean-up of Sellafield.
Working alongside the Robotics and Artificial Intelligence for Nuclear hub, one of 4 robotics hubs in the UK, Sellafield Ltd is developing, testing and deploying new robotics systems fit for nuclear environments.
This investment is already making a difference at Sellafield, including robotic systems that are:
continuously inspecting defined areas for radioactive contamination from a fixed source
extending radiological and contamination detection to reach restricted or hard to enter places of the site
There are also plenty of opportunities for the supply chain to bring their innovations to Sellafield.
Three specific opportunities were launched at the robotics event:
Deployment techniques to allow remote working at height in high hazardous areas
Autonomous removal of Special Nuclear Material packages from a store to a transport container for export
Remote inspection of Special Nuclear Material packages
More information on the challenges can be found on the Game Changes website.
Dr Frank Allison from Game Changers said:
The event highlighted the ways in which robotics and artificial intelligence can be used within Sellafield to support decommissioning. There were exhibitions of cutting-edge robotic technology and three new exciting challenges are now open for the supply chain to find solutions to.

It brought together people from a wide variety of organisations and industries and we're looking forward to nurturing new relationships and paving the way for some really innovative thinking.
Published 19 September 2019