Press release
Calling all lovers of the River Thames to join our volunteers!
The Environment Agency is once again looking for new recruits to join its growing band of volunteers on the non-tidal River Thames.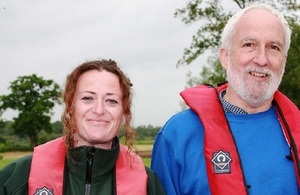 Rising near Cirencester in Gloucestershire and tracing a glistening, serpentine route through some of the most gorgeous countryside that England's home counties have to offer, the freshwater River Thames is an irresistible source of recreational pleasure for walkers, runners, cyclists, anglers and boaters 'messing about' on every type of vessel imaginable. It is the vital and highly valued service it provides boaters and other users and visitors to its locks that the Environment Agency is seeking help with.
Demetri Somarakis, who manages the Environment Agency's River Thames Volunteers Team said:
The service we provide boaters on the Thames is unrivalled by any other river in the world.

Our ability to maintain such high standards relies on the significant contribution of our volunteers. They give up their spare time to work under the expert guidance of our full-time professional staff, and do so full of enthusiasm and friendliness. We, and the rest of river's boating fraternity, are hugely appreciative and we look forward to welcoming back many of our veterans and hopefully lots of new faces to our locks this season.
Peter Le Gros who volunteers at Hurley Lock near Maidenhead in Berkshire said:
I used to fish here as a boy, and coming back now that I've retired to help boaters is a great fun. The scheme is very well run and it's lovely being out in the fresh air – it's a really lovely thing to do.
Sandy Jeffrey from Woodcote, Oxfordshire, works at Goring Lock, also in Berkshire, and said:
I popped down to the lock for an ice cream one day and the next thing I know I've been volunteering here for four years!

I love coming on the lock, because the people are so lovely. As a lady volunteer, I share lots of jokes and giggles about the men with women boaters – of which there are quite a few – and they like seeing a woman on the lock. So, more lady volunteers please!
The Environment Agency is looking for people to offer at least one day per week working at one or more locks of their choice from the 45 that the Environment Agency operates along the 135 miles of non-tidal River Thames. They run from St John's near Lechlade in Gloucestershire, through Oxfordshire, Berkshire and Surrey to Teddington in south west London
Most sit within sumptuously beautiful pastoral landscapes, but others are in more urban settings, where they provide a small oasis of tranquillity amongst the hustle and bustle of metropolitan life.
And though there are opportunities at every lock, the Environment Agency is particularly keen for more people to work at some of the more remote sites in Oxfordshire – arguably some of the most attractive and serene.
John Stevenson from Woodstock, Oxfordshire has been volunteering at one such lock in Eynsham near Witney since 2013. He said:
I absolutely love it! I work at one of the traditional beam locks, which have to be worked by hand, and it's a great way to stay fit – far better than going to the gym! The people you meet are always in a happy mood and the camaraderie is marvellous. I just don't want to give it up. I thoroughly recommend it!
The Environment Agency provides training, workwear and travel expenses. The river environment and the people who use and enjoy it provide everything else volunteers gain from the experience.
For more information or an application pack, email or call 0203 025 9628.
Published 24 March 2016