World news story
Call on President of the Academy of Sciences of Tajikistan, Mamadsho Ilolov
On 29 July HM Ambassador Robin Ord-Smith called on the President of the Ministry of Sciences of Tajikistan, Mamadsho Ilolov.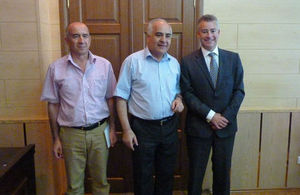 Mamadsho Ililov noted long standing cooperation between the British Embassy and the Academy of Sciences. He also described projects funded by the UK through International Science and Technological Center in various fields as well as the Academy's direct collaboration with UK universities and science institutions.
Mamadsho Ilolov thanked the UK government for its cooperation and for the support of young Tajik scientist, Ahrorov, to participate in International Conference of Young Scientists in Cambridge, UK.
HM Ambassador, Robin Ord-Smith said: "The promotion of scientific collaboration is an important aspect of bilateral relationship between the UK and Tajikistan. I hope that it will be possible to build further on the existing strong links to the benefit of both our countries. I and my Embassy will support all attempts to do this."
Published 1 August 2013