News story
Call for town hall pensions savings to cut taxpayer bill
From:

Part of:

Published:

21 June 2013
This was published under the 2010 to 2015 Conservative and Liberal Democrat coalition government
Call for evidence launched into ways of significantly reducing the costs of the Local Government Pension Scheme.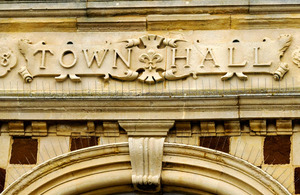 The government has today launched a call for evidence into ways of significantly reducing the costs of the Local Government Pension Scheme by increasing fund co-operation, transparency and accountability to taxpayers.
Figures published today for the Local Government Pension Scheme show there is scope for reforms to improve performance and reduce management and administration overheads, which cost taxpayers £471 million in England.
These range from £28 to over £300 per scheme member across the 89 funds.
The government has made it clear it is not wedded to the existing number of fund schemes. Ministers want to see more co-operation within the 89 pension fund schemes and are open to the possibility of structural changes such as mergers.
The London Pension Fund Authority has estimated that pooling fund assets and resources could have benefits of as much as £750 million a year.
Asset managers earned £353 million from local government pension funds in England in 2011 to 2012. This was a twelve per cent increase on the previous year. In the same period the market value of investments held by pension schemes only increased by four per cent to £148 billion.
The government is also consulting on how the Local Government Pension Scheme can achieve a higher level of accountability to local taxpayers including through an improvement in the availability of transparent and comparable data.
Local Government Minister Brandon Lewis said:
This government is taking action to reduce the massive and unsustainable cost of state sector pensions with higher contributions from well-paid staff and for the first time in recent memory, the cost of town hall pensions to taxpayers is now falling.

But there is more that can be done, which is why today I am launching a process to find ways to reduce the £471 million management and administration bill through greater joint working, fund mergers and increased data transparency that will make the pension scheme more accountable to its taxpayers.
Further information
In 2010, the government commissioned Lord Hutton to chair the Independent Public Service Pensions Commission. The purpose of the Commission was to review public service pensions and to make recommendations on how they could be made sustainable and affordable in the long term, while being fair to both taxpayers and public sector workers. Lord Hutton's final report was published on 10 March 2011. Among its recommendations, the report made clear that the benefits of co-operative working between local government pension scheme funds and achieving administration efficiencies more generally should investigated further. The Local Government Pension Scheme currently costs local taxpayers £6 billion a year in employer contributions.
Today's call for evidence by the Department for Communities and Local Government and the Local Government Association will help inform a consultation later in the year on a number of broad principles for change that would improve the efficiency and cost-effectiveness of the scheme.
The aims of the call for evidence include helping reduce the deficit, improving investment returns and accountability to taxpayers by identifying the best ways to reduce investment fees and the cost effectiveness of administration.
View a full list of costs in 2011 to 2012 for each fund:
MS Excel Spreadsheet, 45KB
This file may not be suitable for users of assistive technology. Request an accessible format.
If you use assistive technology (such as a screen reader) and need a version of this document in a more accessible format, please email alternativeformats@communities.gsi.gov.uk. Please tell us what format you need. It will help us if you say what assistive technology you use.
The chart below shows the rise in the cost of employer (i.e. taxpayer-funded) contributions since 1997:
| England | All employers' contributions |
| --- | --- |
| 1997-98 | £1,520 million |
| 1998-99 | £1,788 million |
| 1999-00 | £1,972 million |
| 2000-01 | £2,273 million |
| 2001-02 | £2,617 million |
| 2002-03 | £2,916 million |
| 2003-04 | £3,217 million |
| 2004-05 | £3,544 million |
| 2005-06 | £4,124 million |
| 2006-07 | £4,626 million |
| 2007-08 | £5,009 million |
| 2008-09 | £5,400 million |
| 2009-10 | £5,759 million |
| 2010-11 | £5,947 million |
| 2011-12 | £5,920 million |