World news story
Call for proposals: Tunisian borders' stability and security
This was published under the 2010 to 2015 Conservative and Liberal Democrat coalition government
Addressing stability and security of Tunisia's borders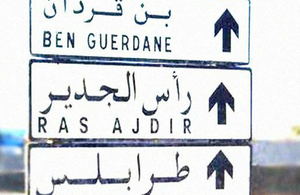 The British Embassy in Tunisia invites proposals that address Tunisia's borders. The regional flow of weapons and narcotics since 2011 has intensified. The security sector facing this increased threat is still in the process of post-revolution capacity building and reform. Border populations are heavily dependent upon the informal trading economy. Economic solutions that provide alternatives to informal trade is a long-term endeavour, whilst the risks from dangerous goods posed in the short-term are increasing.
The International Crisis Group and Small Arms Survey, amongst others, have undertaken research concerning the security of Tunisia's borders.
The UK Conflict Pool
The Conflict Pool is managed jointly by the three UK departments traditionally involved in conflict prevention: UK Foreign and Commonwealth Office (FCO), Department for International Development (DFID), Ministry of Defence (MoD). In the Middle East and North Africa the Conflict Pool works to promote greater stability and security through supporting a holistic approach to upstream conflict prevention, tackling fragility and achieving long term stability. Further guidance can be found here: Conflict PoolStrategicGuidance (PDF, 653KB, 23 pages) .
Guidelines for bids
The broad objective of any successful project would be to address border security threats and resilience. Proposals are particularly welcome that take a holistic and multidisciplinary approach, incorporating community, government and security actors and consistent with the Conflict Pool's joint MoD, FCO and DFID management structure. Use of/references to the analyses mentioned above are welcomed.
This is a competitive process. Criteria for judging are:
• Relevance of the project objective and appropriateness for the situation on the ground
• Demonstration of potential to deliver impact against the objectives, of how impact will be measured and sustainability
• Value for money
Please use the Concept Note template provided: Concept Note Template (MS Word Document, 70.8KB) , three pages maximum.
The last date for submissions is 2 February 2014. Bids should range from £30,000 to £100,000. Co-financing is welcomed. Projects can be multi-year but funding cannot be guaranteed beyond FY14-15 (1 April 2014 to 31st March 2015). There may be an opportunity for successful projects to up-scale if appropriate in autumn 2014.
Successful Concept Notes will receive a reply within three weeks of submission, following which full proposals will be invited and evaluated separately using the following templates: Project Proposal Template (MS Word Document, 142KB) and Activity Based Budget (MS Excel Spreadsheet, 40.5KB) .
Please send Concept Notes, covering letters and any supplementary information to: northafrica.conflictpool@fco.gov.uk.
For further information, please contact this address before 19 January.
Document information
Published: 25 December 2013