World news story
Call for Proposals: Supporting Tunisia's Democratisation Process
British Embassy Tunis is accepting project proposals covering priority areas to assist Tunisia's democratic transition.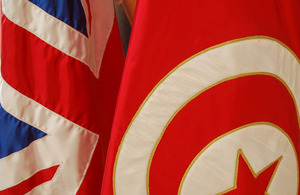 The British Embassy in Tunisia invites proposals that address Tunisia's democratisation process and political transition. Proposals submitted under this call for bids should cover one or more of the following priorities:
Political participation and strengthening electoral processes
Public voice and freedom of expression
Good governance (rule of law; transparency, integrity and tackling corruption; effective and accountable institutions)
The UK Arab Partnership Programme Fund
The Arab Partnership was established by the UK Government to support countries in the Middle East and North Africa which want to put in the place the building blocks of more open, free societies, underpinned by vibrant economies. The Arab Partnership works with host Governments, multilateral organisations and civil society in support of these objectives.
For more information on the Arab Partnership please visit https://www.gov.uk/arab-partnership-participation-fund
Bidding process
The project bids clearly need to demonstrate their contribution to one of the priorities. They will be assessed on what results they will achieve, how realistic the plans are and whether the results constitute good value for money against the proposed budget. Prospective partners will also need to demonstrate how they will measure the impact of their project.
Bids will be assessed against the following criteria:
Relevance to overarching Arab Partnership objectives
Supported by analysis/strong rationale
Value for money
Evidence of local demand/need
Project viability, including capacity of implementing organisation(s)
Project design, including clear, achievable objectives/outputs
Consideration of inclusivity in approach (including gender, youth and human rights)
Sustainability
Potential multiplier effect
Projects can be conceived for more than a year however the British Embassy is only able to consider funding until March 2015. The approximate financial range is £50,000 to £500,000.
All bidders should submit a Project Proposal and an Activity Based Budget to tunissharedppa@fco.gov.uk by 8 February 2014.
For further information, please contact this address: tunissharedppa@fco.gov.uk.
Forms and guidance:
If the total project cost is over £500,000 bidder should include a Logical Framework Form as part of their application:
Published 17 January 2014