Call for more investment in immunisation to save lives
International Development Minister Alan Duncan today called for additional investment in the GAVI Alliance to fund immunisation programmes in the world's poorest countries and help stop the deaths of millions of children in poor countries.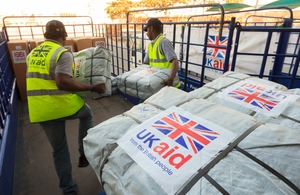 He urged the international community, private sector and vaccine manufacturers to make strong commitments at next month's UK hosted GAVI Alliance conference. A fully funded GAVI programme would mean an additional 240 million children would be immunised over the next four years and four million future deaths averted.
Speaking at a parliamentary event ahead of June's pledging conference, the Minister outlined why immunisation is one of the most cost effective ways of reducing childhood mortality and giving children the best possible start in life. He also emphasised that the UK's Multilateral Aid Review has assessed GAVI as offering excellent value for money with a proven track record of delivering results on the ground.
Other speakers at the event included Save the Children Ambassador Natasha Kaplinsky and interim head of GAVI, Helen Evans. Both highlighted the need for tackling easily preventable diseases and the opportunity the upcoming pledging conference offered to make a real difference to the lives of millions of children.
 Natasha Kaplinsky, Save the Children's Ambassador said:
"Life-saving vaccines are cheap, highly effective and a success story of our generation. But this huge two billion pound funding shortfall is risking the lives of millions of the poorest children around the world, many of whom still have no access to basic vaccines we in the UK take for granted. It's crucial that world leaders take the chance to fill the funding gap on 13 June and save four million children's lives before 2015."
---
Saving children's lives - the GAVI Alliance pledging conference for immunisation takes place on 13 June 2011 in London. Donors, co-financing countries and vaccine manufactures will come together to address the need to raise US$3.7 billion to scale-up immunisation programmes between 2011 and 2015.
Published 12 May 2011