World news story
Call for joint research projects proposals in Chile
The British Council is calling for joint UK-Chilean proposals as part of the bilateral Newton-Picarte- Fund for science and development.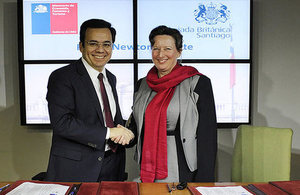 As part of the Newton Fund, in collaboration with the Chilean National Commission for Scientific and Technological Research (CONICYT), the British Council is calling for joint UK-Chilean proposals. The deadline for applications is 25 November 2014, at 5pm (Chilean continental time).
Programme description
The IDeA Programme provides funding for joint research projects that build on previous research results to achieve results with significant socio-economic impact. The Programme finances two areas of work:
Applied research for proof of concept, modeling or small-scale or laboratory prototyping
Scientific and technological development to produce and evaluate research results that are close to final applications.
Funding and duration
Projects can be executed over 24 months
The projects receive a maximum grant of $CLP150,000,000 / approx. £155,000
The subsidy provided by the Programme can represent up to 70% of the total project cost.
The types of projects financed
Precompetitive R&D projects: Scientific and technological research in new products, services, or processes for commercial markets
R&D Projects of public interest: Scientific and technological research generating innovations in products, services, or processes that benefit the wider Chilean society, or specific sectors of national importance, without exclusivity of the results by individual entities.
General eligibility under the FONDEF call
Applications can only be submitted by non-profit legal entities, including universities, higher education institutions, technological and research institutions. The proposals must be submitted jointly with Chilean project partner(s)
Funding cannot go to private enterprises
Proposals need to include private enterprise associate(s) (from Chile or the UK), or other entities, public or private, that contribute financially to the project, and are the beneficiaries of the research results. The responsibilities, rights, and obligations of each project partner will need to be detailed, and supported by documents between the partners
The applicants are to contribute a minimum of 10% of the total project cost
The associates (companies, or public agencies) are to contribute a minimum of 20% of the total project cost.
Eligibility for support under the Newton-Picarte Fund
UK Newton Funds cannot go to private institutions or companies, only to universities or publicly funded research establishments (including Catapult Centres)
The Newton Fund is part of the UK's official development assistance. Its aim is to develop science and innovation partnerships that promote the economic development and welfare of Chile
In addition to the scientific results, the UK-Chilean proposals should consider how the projects affect and impact the following criteria and questions:
Addresses poverty either because it is focused on poor people in Chile or addresses the issues of poor people in a low-income country
Addresses the development problem effectively and efficiently (see below)
Creates a strong, sustainable and systematic relationship between the UK's research base / innovation ecosystem, and that of Chile
Shows evidence that any research involved will be internationally excellent.
The Newton Fund aims at supporting the socio-economic development of Chile, and therefore, all proposals to be co-funded by BIS via the British Council under this Programme have to demonstrate that the research and innovation covered have development relevance, defined as activities (applied or translational) that have the potential to contribute to the economic development and social welfare of low- and middle-income countries[1], benefitting poor and vulnerable populations in these countries. In order to be considered for funding under this Programme, all proposals must clearly articulate a plausible pathway along which the research and innovation work may lead to positive impact on these populations within a short- to medium-term timeframe.
Under this Programme, topics can fall in one or more of the following research and innovation challenge areas:
Agriculture (e.g. irrigation, crop yields)
Climate and environment (e.g. climate change, green technology, sustainable development, ecosystem services, resource scarcity)
Sustainable energy for all
Education research and innovation for development
Economic growth (e.g. equitable growth, financial sector development, private sector development)
Health (e.g. HIV/AIDS, malaria, tuberculosis, neglected tropical diseases, child mortality, maternal health)
Water and sanitation
Food and nutrition (including food security)
Demographic change and migration
Rural and urban development
Infrastructure (including civil engineering, information and communication technologies, big data for social and economic development)
Humanitarian disasters and emergencies, disaster risk reduction
Resilient and connected communities
Governance, society and conflict (e.g. transparency, accountability, effective institutions, land and natural resource rights, poverty alleviation, social development, structural inequalities, violence and security, peace building, civil society)
Development-relevant data collection, quality and access (including administrative data and macroeconomic statistics).
[1] As defined by the OECD DAC list of official development assistance (ODA) recipients.
Further information
Please visit the CONICYT website for the application documents (in Spanish). UK-Chilean proposals are to be submitted using the English language application form.
UK institutions that are interested in this call should contact a Chilean partner who will lead the application. If you would like support to find a potential Chilean partner please contact: idea.info@newtonpicarte.org.
For specific queries, please contact the Newton-Picarte Team of the British Council: idea.info@newtonpicarte.org.
Embassy activities
For more information about the activities of the British Embassy in Santiago, follow us on:
Published 20 October 2014