World news story
Call for concept bids for the 2014/15 Human Rights and Democracy Programme
The British Embassy in Dushanbe invites organisations operating in Tajikistan to submit project concept bids for the Foreign and Commonwealth Office's (FCO) 2014/15 Human Rights and Democracy Programme (HRDP).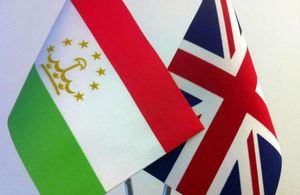 The deadline to submit concept notes is 28 February 2014.
The HRDP is the FCO's dedicated fund supporting human rights and democracy work overseas. The programme aims to make a difference to people's lives, helping to build the capacity of governments and civil society to promote and protect human rights. In 2013/14, the programme supported over 80 projects worldwide.
Human rights, democracy and the rule of law are at the heart of Her Majesty's Government's foreign policy. The HRDP targets areas that are both important to us and where we consider we can make the greatest impact in delivering the FCO's overarching purpose to "pursue an active and activist foreign policy, working with other countries and strengthening the rules-based international system in support of our values".
2014/15 Programme
The target areas for 2014/15 are:
global torture prevention
abolition of the death penalty
promotion and protection of freedom of expression
upholding freedom of religion and belief
women's rights
business and human rights
strengthening democratic processes
preventing sexual violence in conflict
FCO Human Rights and Democracy Programme Strategy 2014-15 (MS Word Document, 137KB)
Selection Criteria
Projects must deliver outputs and outcomes relevant to the target areas. Projects that clearly demonstrate how they will address the target areas will improve their chance of support. Bids will also be assessed against the following criteria:
Value for money
Evidence of local demand/need
Project viability, including capacity of implementing organisation(s)
Project design, including clear, achievable objectives/outputs
Sustainability
Good risk and stakeholder management
We would strongly recommend that potential implementers in Tajikistan contact the Embassy to discuss their proposed project prior to formally submitting a concept bid.
Published 3 February 2014