World news story
Call for bids: Inclusion of Yemeni youth in conflict resolution and prevention
The British Embassy Sana'a invites proposals for project work to support the better inclusion of Yemeni youth in conflict resolution and prevention in Yemen for the period October 2017 to March 2018.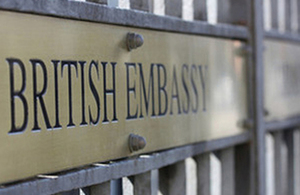 Successful projects will be funded by the FCO's Global Britain Fund. The deadline for submitting proposals is 17:00 (UK time) on Thursday 5 October 2017.
Programme
The programme is looking to support a project or projects with a budget of up to £120,000 in the following area:
Promotion of inclusion of youth (defined as 15-35) in resolving and preventing conflict in Yemen
Examples of areas of work that projects might support include:
inclusion of Yemeni youth in local political decision-making and governance structures, or capacity building which enables youth to take a greater role in local governance
workshops / conferences which encourage greater participation of Yemeni youth in the formal / informal peace process
support to developing media / social media messaging which promotes youth inclusion, or activity which enables greater youth engagement with traditional and electronic media
capacity building of civil society organisations which advocate for greater inclusion of Yemeni youth
promotion of youth activities which contributes to countering local drivers of violent extremism
In this call for proposals, we will prioritise bids that come from civil society organisations or work through civil society organisations as part of a consortium, but bids from commercial organisations or which involves working directly with government bodies may also be approved where there is a strong case. We welcome proposals for work in all regions of Yemen.
Bidding process
Bidders should fill in the standard Project Proposal Form and include a breakdown of project costs in the Budget Form.
We will not consider proposals submitted in other formats. Budgets must be Activity Based Budgets. Successful bids must demonstrate strong strategic relevance to the areas of programme focus and have a clear focus on delivering change and sustainability.
Proposals should be sent to the British Embassy Sana'a at britishembassy.sanaa2@fco.gov.uk by 17:00 (UK time) on Thursday 5 October 2017. In the subject line, please label your email GBF YEMEN: and then the title of your proposed project.
We will evaluate proposals in October 2017. Approved projects will commence from 1 November.
Evaluation criteria
Proposals will be evaluated against the following criteria:
fit to programme objectives
the extent to which the proposal addresses the issues
quality of project
how well defined and relevant the project outcome/purpose is and how outputs will deliver this change
value for money
the value of the expected project outcome/purpose, the level of funding requested and institutional contribution
previous experience of the project team – evidence of the project team's understanding the issue and of its regional activities, ability to manage and deliver a successful project, through work done to date in the area or in related fields
bids that contribute to the Embassy's public diplomacy efforts are especially welcome
Notes
The British Embassy Sana'a reserves the right to carry out due diligence of potential grantees, including seeking references, as part of the selection process.
Bidding is competitive and only selected projects will receive funding. The Embassy reserves the right to accept or reject any or all bids without incurring any obligation to inform the affected applicant(s) of the grounds of such acceptance or rejection. Due to the volume of bids expected we will not be able to provide feedback on unsuccessful bids.
Published 21 September 2017