World news story
Call for Applications for 2014/2015 Chevening Scholarship Programme
Applications for 2014-2015 Chevening Scholarships in Georgia are now open and will close on 1 November 2013.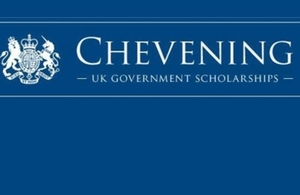 The Scholarships not only offer financial support to study for a Master's degree at the UK's leading universities, but the opportunity to become part of an influential and highly regarded global network.
We are grateful to our partner Bank of Georgia for supporting the scheme locally and enabling more talented individuals to benefit from Chevening Scholarships.
We aim to attract talented professionals who are potential future leaders, decision-makers and opinion formers. We accept applications in the following fields:
Political studies
Democratisation reforms (including human rights, media freedom, rule of law)
Good Governance
Conflict resolution
Business and financial studies
Economic and energy studies
A Chevening Scholarship in Georgia includes: a monthly stipend, travel to and from your country via an approved route, an arrival and excess baggage allowance, a thesis or dissertation grant, the cost of an entry clearance visa and tuition fees up to £12,000. If the tuition fees of your chosen course exceed this amount, please note that you may be required to supplement the balance of your award.
Do you have the potential to be a future leader and a desire to study in the UK? If you would like to enhance your leadership skills and become part of the growing Chevening network, read about it here: (http://www.chevening.org/georgia/applying_georgia)
About Bank of Georgia
Bank of Georgia is the leading bank in Georgia, with more than a third of the market share based on total assets, total loans, total deposits and total shareholders' equity. The bank offers a broad range retail banking, corporate banking, asset and wealth management, brokerage and insurance services to its clients. Bank of Georgia's UK incorporated holding company Bank of Georgia Holdings plc is listed on the main market of the London Stock Exchange.
Published 19 September 2013