Cadet band make D-Day commemorations thanks to passport service
A Norfolk cadet band have stepped in to rescue D-Day commemorations in France thanks to the Identity and Passport Service.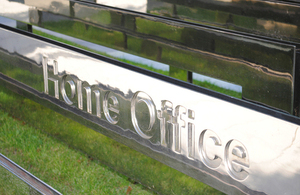 Organisers marking the historic event this year with veterans in Arromanches, Normandy, contacted the cadets after their usual military bands pulled out and the group were all set to go until they realised seven young people didn't have passports.
But a quick call to the Peterborough Passport Office meant that the passports were processed for the young people.
Alison Longman, IPS Area Operations Manager for East and Midlands, said:
'I am delighted that the Peterborough team has been able to help the cadet band on this occasion.
'Although we are very busy as it is the peak summer demand period, we do try to deliver the best possible service to our customers.
'I hope that the band enjoys representing the UK at the D-Day celebrations in France.'
The Winterton-on-Sea Marine Cadet band senior officer Martin Scott was asked if they would take part in commemoration events in Arromanches, Normandy, at just two weeks' notice. Major Scott agreed and asked band master Sam Gregory to get in touch with the Peterborough Passport Office.
She explained the urgency of the situation to them and was delighted with the efficient service received.
Major Scott said:
'The young people were thrilled to be asked to the event, and the staff wanted to do all we could to get them there.
'The passport office in Peterborough were brilliant, and got me appointments on behalf of the young people and their parents so we could fast track their applications. We now have all seven passports and are so grateful to the staff there who helped.'
The organising committee in Normandy contacted them after the planned military bands had to pull out due to commitments with the Jubilee and French presidential inauguration. The cadets are due to head out to a summer camp there in August, so committee members had their contact details.
The marching band - which is made up of percussion, brass and woodwind instruments - are due to perform three times on June 6. They will first play for a civilian ceremony organised by the Mayor of Arromanches Patrick Jardin, where 30 veterans will be guests of honour. Then they will entertain the crowds with music and drill before finally taking part in the evening ceremony, organised by British veterans. They will perform music including the National Anthem, Land of Hope and Glory, and songs from TV show Dad's Army.
D-Day refers to the first day of the World War 2 Normandy Landings by the Allies on 6 June 1944, marking the beginning of the liberation of Western Europe from German occupation.
Adrian Cox, a councillor in Normandy and part of the organising committee, said:
"We are absolutely bowled over by the enthusiasm and efforts made by both the cadet troop and by the passport office in helping give the veterans the parade and respect that they and their fallen comrades deserve.'
Summer is a peak time for passport renewals, so the IPS are reminding customers to check their passport expiry dates before booking travel and allow plenty of time to renew them.
You can do this by:
The Post Office's Check and Send Service.
IPS' own postal or online services.
If you need the passport quickly, you can use IPS' Premium one day service and one week fast track service.
It is possible to carry over up to nine months remaining on an existing passport, so there is no need to wait until the last minute to renew it.
If you need a new passport, the advice is to allow at least three weeks for it to arrive and longer if you are applying for the first time.
Notes to editors
1. For further information on applying for a passport, go to www.direct.gov.uk/passports
2. First time applicants may be required to attend an interview. Where an interview is required applicants cannot use the express services.
3. Turnaround times for passport services are not guaranteed and customers should leave as much time as possible.
4. For media enquiries, please contact Home Office press office on 020 7035 3535.
5. A photo of the cadet band is available at the Home Office Flickr page.
Published 1 June 2012