News story
Cable urges Southport businesses to increase apprenticeships
The Secretary of State will meet apprentices at Stork Technical Services, and see how they are making an impact on the company in highly-skilled…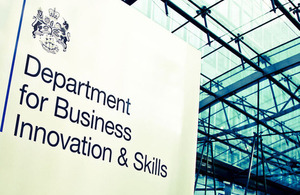 The Secretary of State will meet apprentices at Stork Technical Services, and see how they are making an impact on the company in highly-skilled jobs across the electrical and engineering departments, designing and manufacturing a range of heat-treatment equipment.
Earlier in the day he will lead a discussion with local employers at Southport College about the benefits of apprenticeships to businesses. While there he will also visit the Energy Training Centre, to see how students are learning skills for maintaining renewable-energy equipment. He will open a new University Centre, which offers a wide range of vocationally-linked university-level courses.
Business Secretary Vince Cable said:
"The Southport organisations I'm visiting today are good examples of how to make the most out of apprenticeships, to the benefit of local people and businesses. It is useful to see how both educators and employers contribute to providing these much-needed opportunities in the region. I urge other employers in the North West to take advantage of the funding available, to give a young person a valuable job.
Stork Technical Services product line director Nigel Bleackley said:
"We are very much looking forward to the visit from the Secretary of State. We are happy to support Southport College in their Apprentice Training Programme, the Government's apprenticeship initiatives and the national apprentice scheme as a whole. We think it is of huge importance that businesses take the opportunity to develop Engineers for the future."
Southport College principal John Clarke said:
"We are thrilled and honoured that the Secretary of State has chosen to visit Southport College. The visit has come at an exciting time for us; we have reached a milestone by providing training for our 500th apprentice and our new Energy Training Centre is equipping students to meet the needs of emerging technologies. These new developments provide students with the opportunity to gain high value qualifications and develop well rounded vocational and academic skills."
**Notes to editors:
**1. In addition to wider efforts to create more apprenticeship opportunities, the Government has introduced the Apprenticeship Grant for Employers (AGE 16-24). This scheme provides grants to support smaller employers taking on young apprentices aged 16-24. Up to 40,000 grants of £1,500 per apprentice are available. The Government recently announced improvements to make the grant simpler and more accessible to a greater number of employers. The grant is now available to employers with up to 1,000 employees who have not taken on an apprentice in the previous 12 months, and an employer can claim grants to support up to 10 new apprentices.
Stork Technical Services (STS) Ltd has an international reputation for engineering excellence, in providing a range of mobile heat-treatment equipment and furnaces along with on-site heat treatment services to the oil, petrochemical, power generation, marine and fabrication industries. This worldwide activity has generated a wealth of experience within the company resulting in the brand being recognised as the one of the world's largest specialist heat treatment providers.

Southport College has 1,500 16-18 year old students, and offers a mainly vocational curriculum with a broad range of courses. The college's apprenticeship programme has increased by 150 per cent over the past year, and it currently trains over 460 apprentices. It has developed its own Higher Education provision delivered through a newly designed University Centre with Higher Nationals and Foundation degree qualifications.

BIS's online newsroom contains the latest press notices, speeches, as well as video and images for download. It also features an up to date list of BIS press office contacts. See http://www.bis.gov.uk/newsroom for more information.

The Government's economic policy objective is to achieve 'strong, sustainable and balanced growth that is more evenly shared across the country and between industries.' It set four ambitions in the 'Plan for Growth' (PDF 1.7MB), published at Budget 2011:
To create the most competitive tax system in the G20

To make the UK the best place in Europe to start, finance and grow a business

To encourage investment and exports as a route to a more balanced economy

To create a more educated workforce that is the most flexible in Europe.
Work is underway across Government to achieve these ambitions, including progress on more than 250 measures as part of the Growth Review. Developing an Industrial Strategy gives new impetus to this work by providing businesses, investors and the public with more clarity about the long-term direction in which the Government wants the economy to travel.
Notes to Editors
Contact Information
Name BIS Press Office Job Title
Division Department for Business, Innovation & Skills Phone
Fax
Mobile
Email bispress.releases@bis.gsi.gov.uk
Name Caroline Holmes Job Title
Division Department for Business, Innovation & Skills Phone 020 215 5979 Fax
Mobile
Published 18 October 2012