Press release
Cable announces review of executive search code of conduct
Charlotte Sweeney to review the Voluntary Code of Conduct that the executive search industry uses during the board appointment process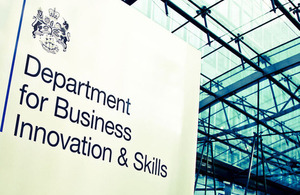 Business Secretary Vince Cable has today announced Charlotte Sweeney is to review the Voluntary Code of Conduct that the executive search industry uses during the board appointment search process
The Voluntary Code, established in July 2011, was a recommendation of Lord Davies' following his review into Women on Boards in the same year. Written by the executive search community, it sets out nine key principles of best practice to follow throughout the search process.
Charlotte Sweeney was previously International Head of Diversity and Inclusion for Nomura International PLC. Her review will look to test the strength of the Code, develop areas of accountability, as well as identifying the practical changes that have been made to the recruitment process as a result of the Code. The review will also look at whether women are still accounting for 30% of the initial long-lists of candidates submitted to company Chairs by executive search firms. The expectation is that a similar representation is demonstrated on the short-lists submitted at a later date.
Business Secretary Vince Cable said:
"The argument for greater female representation in the top positions of our biggest companies is clear. We're committed in seeing this happen and the Code has played a big role in the progress we've seen to date.
"Charlotte's review will help make sure that women are treated fairly in the recruitment process and I look forward to receiving her report later this year."
Charlotte Sweeney said:
"The representation of women in the top positions of the UK FTSE350 companies is important for the growth of our economy. The Voluntary Code of Conduct for Executive Search Firms plays an important part of the recruitment process for board appointments. I am delighted to take on this role to review the Code and I'm looking forward to speaking to the key stakeholders in this area to ensure we continue to improve the representation of women in our boardrooms".
Charlotte Sweeney will be interviewing and challenging key stakeholders including Chairmen, board consultants, female directors, investors, HR Directors, Company Secretaries and other interested parties to get a better picture of the compliance of the code. A short report will be presented to the Secretary of State and Lord Davies by December 2013.
Notes to Editors
1.Latest statistics of Women on Boards
2.Biography of Charlotte Sweeney –
Charlotte has over 20 years experience of equality, diversity, inclusion, health & wellbeing, change management, employee engagement and corporate culture shift at a global and local level, with a clear link to business performance.
From 2009 – 2012 she was the International Head of Diversity and Inclusion for Nomura International PLC. Within that time she developed and implemented Nomura's first Diversity & Inclusion Strategy.
Before Nomura, she joined HBOS plc as Head of Diversity in 2005 - 2009 and developed the first group wide diversity strategy, including regular diversity reporting within business planning and developing the Diversity Steering Group chaired by the CEO.
Prior to this role she was the diversity manager at Barclays PLC from 2000-2005 specialising in diversity, culture change, change leadership and executive coaching. She won a number of awards including the Personnel Today DWP Age Positive at Work Award.
Charlotte is a NED for a number of not for profit organisations including President of the London Chapter of European Professional Women's Network, and sits on a number of Executive Steering Groups. She is a NED for the Mid Yorkshire NHS Trust and for a number of not for profit organisations including WoB UK, The Equality & Diversity Forum and Employers for Carers. She works closely with the Commission for Equality and Human Rights. She is also an external Equalities Advisory Board Member for BIS.
She was awarded the 2010 Global Diversity Leadership Award at Harvard.
She has more recently moved from a role of 'internal' consultant to create a business that supports companies with their cultural and change management agenda.
3.The government's economic policy objective is to achieve 'strong, sustainable and balanced growth that is more evenly shared across the country and between industries'. It set four ambitions in the 'Plan for Growth', published at Budget 2011:
to create the most competitive tax system in the G20
to make the UK the best place in Europe to start, finance and grow a business
to encourage investment and exports as a route to a more balanced economy
to create a more educated workforce that is the most flexible in Europe.
Work is underway across government to achieve these ambitions, including progress on more than 250 measures as part of the Growth Review. Developing an Industrial Strategy gives new impetus to this work by providing businesses, investors and the public with more clarity about the long-term direction in which the government wants the economy to travel.
Published 9 September 2013