Announcement
Cable announces improved higher education package
This was published under the 2010 to 2015 Conservative and Liberal Democrat coalition government
Secretary of State Vince Cable said: "These reforms will introduce a significantly fairer and more progressive new system in which no eligible…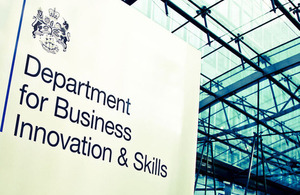 Secretary of State Vince Cable said:
"These reforms will introduce a significantly fairer and more progressive new system in which no eligible student has to pay upfront fees. There is a better deal for students while they are studying and a fairer system of repayments for those who have completed their studies and are realising the benefits of a university education.
"When we announced the reforms last month, we said we would welcome further discussion about the proposals. We have been listening to concerns from universities, students, parents and parliament; and in light of those discussions, I am today announcing further enhancements to the package."
The Government has announced the following improvements to the existing package:
All eligible part time undergraduate students studying for at least 25% of their time will qualify for full loan support for their tuition costs, compared with the 33% originally proposed: they will no longer have to pay up front fees.

The £21,000 earnings threshold will be uprated annually in line with earnings from 2016, when the first graduates under the new system start repayments, rather than every five years as originally proposed. No graduate will repay anything until they reach that income threshold.

The £15,000 earnings threshold that applies in the current student finance system will be uprated annually in line with inflation from 2012. The £15,000 threshold has never been uprated since its announcement in 2004. This change will help existing graduates.
Notes to editors
The Government's proposed reforms were announced by Universities Minister David Willetts on 3 November 2010 - [http://www.bis.gov.uk/news/speeches/david-willetts-statement-on-HE-funding-and-student-finance](http://www.bis.gov.uk/news/speeches/david-willetts-statement-on-HE-funding-and-student-finance)

For a copy of the written statenment go to: http://nds.coi.gov.uk/ImageLibrary/detail.aspx?MediaDetailsID=2691

BIS' online newsroom contains the latest press notices, speeches, as well as video and images for download. It also features an up to date list of BIS press office contacts. See http://www.bis.gov.uk/newsroom for more information.
Notes to Editors
Contact Information
Name BIS Press Office Job Title
Division COI Phone
Fax
Mobile
Email NDS.BIS@coi.gsi.gov.uk
Name Michael Gibbs Job Title
Division Department for Business, Innovation and Skills Phone 020 7215 1635 Fax
Mobile
Document information
Published: 8 December 2010