World news story
Cabinet Secretary benefits from Isle of Man training
From:

Part of:

Published:

4 February 2014
This was published under the 2010 to 2015 Conservative and Liberal Democrat coalition government
TCI Cabinet Secretary, Crystal Robinson, returned from a training attachment to the Isle of Man government today, Tuesday, 4 February 2014.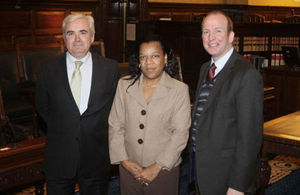 The training programme, which was fully funded by the Governor's Office, gave Miss Robinson the opportunity to attend a number of high-profile Governmental meetings to undertake on-the-job training in taking and writing-up minutes, structuring meeting agendas and producing and circulating action points.
A self-governing British Crown Dependency with a population of some 85,000, the Isle of Man has a highly-skilled and professional civil service who regularly host overseas observers.
This is the second time in the last six months that a TCI civil servant has been attached there, with Head of Secretariat, Ronlee James, undertaking a week-long attachment in September.
We are grateful to the Isle of Man Government for once again providing valuable training to a TCIG member of staff," commented Acting Governor, the Hon. Anya Williams.

Developing the capacity of our hard-working and dedicated civil servants is key to our goal of developing a world-class civil service here in TCI, and I hope the strong partnership between our two Governments will continue to thrive.
Document information
Published: 4 February 2014