News story
'Buy Better Together' prize awarded to creative bargain-hunters
Smarterbuys will use the award to develop their work further and to spread awareness of their affordable loans and products to help more consumers…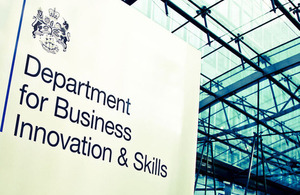 Smarterbuys will use the award to develop their work further and to spread awareness of their affordable loans and products to help more consumers.
The Buy Better Together Challenge was launched by the Department for Business, Innovation and Skills and Co-operatives UK in December 2011 to encourage groups of consumers to get together and negotiate discounted rates for buying goods and services in bulk. The Challenge received 110 entries, which were whittled down by a panel of independent judges to seven finalists.
Collective purchasing schemes can benefit individuals and communities in various ways, for example, saving money for those on low incomes; increasing access to healthy or organic food, or reaching out to less mobile members of the community.
'Fair Food Carlisle' was awarded the runner-up prize for their scheme which uses buying groups to provide workplaces with a weekly supply of food from local businesses. 'Fair Food Carlisle' won £5,000 which will be invested in improving business processes and hiring staff.
Jo Swinson said:
"The Buy Better Together Challenge has highlighted hundreds of fantastic ideas and examples from local communities, who banded together to make their money work harder. Collective purchasing is of immense value to groups, not just to make cost savings, but to increase social links in the community and reach out to vulnerable consumers who may not have access to online research or internet shopping.
"The schemes we have heard about today aren't just benefitting consumers though; businesses have seen first-hand how they can gain more customers by working with these groups and communities, often beating competitors in the process. Many congratulations are due to the organisers of 'Smarterbuys', which is a positive example of how collective purchasing can challenge existing markets and provide better results.
"And I also congratulate 'Fair Food Carlisle' in supporting local produce growers and taking an innovative approach to boosting their local food economy. These schemes are a clear example of what can be done when consumers are empowered and work together to get better deals."
Ed Mayo, Secretary General of Co-operatives UK said:
"We're used to daily deals websites where people buy in bulk to save themselves money. The Challenge celebrates ethical bulk buying that's not just good for the pocket, but for the local community too.
"The successful finalists are schemes where people work together to save money for themselves and their neighbours. They highlight innovative ways of cutting the costs on essentials like food or energy through co-operation."
Other finalists included 'Carbon Co-op', which delivers boxes of tools and information on saving energy and cutting costs to local homes. And the 'Community Energy Club', which pools resources to provide discounted heating oil to those in the community at risk of fuel poverty.
**Notes to editors
**1. Details of the Buy Better Together Challenge, including of all finalists in the competition and the BIS Guide for Community Buying Groups can be found at http://www.bis.gov.uk/policies/consumer-issues/consumer-empowerment/buy-better-together-challenge
The competition winner 'Smarterbuys' is owned and managed by the Northern Housing Consortium, a not-for-profit membership organisation for social housing providers and local authorities. Details can be found at www.smarterbuys.org.uk

Co-operatives UK works to promote, develop and unite co-operative enterprises. It has a unique role as a trade association for co-operatives and its campaigns for co-operation, such as Co-operatives Fortnight, bring together all those with a passion and interest in co-operative action.
Any organisation supportive of co-operation and mutuality can join and there are many opportunities online for individuals to connect to the latest co-operative news, innovations and campaigns. All members benefit from specialist services and the chance to network with other co-operatives. Details found at www.uk.coop
The Government's economic policy objective is to achieve 'strong, sustainable and balanced growth that is more evenly shared across the country and between industries.' It set four ambitions in the 'Plan for Growth' (PDF 1.7MB), published at Budget 2011:
To create the most competitive tax system in the G20
To make the UK the best place in Europe to start, finance and grow a business
To encourage investment and exports as a route to a more balanced economy
To create a more educated workforce that is the most flexible in Europe.
Work is underway across Government to achieve these ambitions, including progress on more than 250 measures as part of the Growth Review. Developing an Industrial Strategy gives new impetus to this work by providing businesses, investors and the public with more clarity about the long-term direction in which the Government wants the economy to travel.
BIS's online newsroom contains the latest press notices, speeches, as well as video and images for download. It also features an up to date list of BIS press office contacts. See http://www.bis.gov.uk/newsroom for more information.
Notes to Editors
Contact Information
Name BIS Press Office Job Title
Division Department for Business, Innovation & Skills Phone
Fax
Mobile
Email bispress.releases@bis.gsi.gov.uk
Name Syeda Hasnain Job Title
Division Department for Business, Innovation & Skills Phone 020 7215 6245 Fax
Mobile
Published 26 November 2012