News story
Businesses to save millions in reporting and accountancy fees
Changes to accountancy and administration regulations could save millions of pounds in costs for small businesses.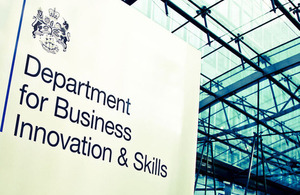 6 Sep 2012
---
---
Currently, to be eligible for an audit exemption in the UK, small companies must be less than a certain size in terms of balance sheet and turnover.
The changes to regulations will align mandatory audit thresholds with accounting thresholds. This means small and medium-sized businesses will be able to obtain an exemption if they meet two out of three criteria relating to balance sheet total, turnover and number of employees. This change will allow 36,000 more companies to choose not to have an audit.
The new regulations are expected to come into force for accounting years ending on or after 1 October 2012.
Vince Cable said:
"Reporting requirements have become increasingly demanding and costly over the years. We listened to business, who made a strong case for reform, and I am delighted that we are now taking this opportunity to make audit more flexible and targeted.
"Tackling these problems will help save UK companies millions every year and free them up to expand and grow their business, which ultimately benefits the entire British economy."
The Government will also exempt most subsidiary companies from mandatory audit, as long as their parent company guarantees their liabilities. A further 83,000 subsidiary companies will benefit.
In addition, another 67,000 dormant subsidiaries will no longer need to prepare and file annual accounts, provided they receive a similar guarantee.
The new regulations will remove EU gold-plating and ensure UK SMEs are not at a disadvantage compared to their European competitors.
These changes are part of the Government's wider drive to reduce unnecessary burdens and make the UK one of the best places in the world to start, finance and grow a business.
Links
](http://businessinyou.bis.gov.uk/)
Published 6 September 2012