News story
Businesses must tell the Chancellor what they told me about Corporation Tax - Paterson
Owen Paterson calls for businesses to unite behind consultation to make case for reduced tax.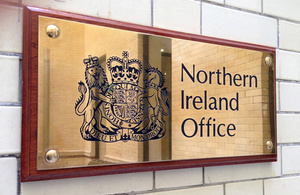 Secretary of State Owen Paterson MP has urged businesses who want to see Northern Ireland given the power to set its own rate of Corporation Tax to respond to the Treasury consultation paper launched last Thursday.
Speaking on the BBC NI Politics Show, Mr Paterson said:
I have been going round businesses in Northern Ireland for over 3 years and I am being told time after time that they want to see Corporation Tax reduced to make them more competitive and allow them to put money back into their companies to invest for the future and create jobs.
Those businesses must now take the opportunity to tell the Chancellor what they have been telling me.
It is crucially important that each individual company does that as well as working with organisations like the CBI and the IoD.
Many people thought that we would not get the argument for devolving the power to set corporation tax as far as we have.
The Treasury have issued a comprehensive paper but that is only the first step.
I need to be able to go to the Treasury with a huge business mandate behind me to argue the case.
The consultation paper, 'Rebalancing the Northern Ireland Economy', is available on the HM Treasury website.
The consultation ends on 24 June 2011.
Responses can be sent on line to niconsultation@hmtreasury.gsi.gov.uk
Published 27 March 2011