Press release
Businesses gather at Ford Prison to find out about employing ex-offenders
Local businesses discover how employing ex-offenders can help meet their need for specialist skills.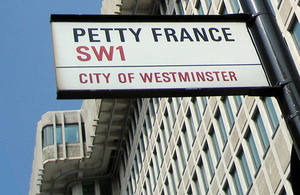 Local businesses will gather at HM Prison Ford today (12 May 2016) to find out how employing ex-offenders can help meet their need for specialist skills in areas including engineering and plumbing as well as the demand for labour in growth sectors such as warehousing, construction and catering.
The session at the prison will encourage businesses to see offenders as potential assets who genuinely want to move forward with their lives, put criminal activity behind them and contribute to society. The prison has excellent links with many local employers and several businesses who are already working with the prison would encourage others to work with offenders on temporary licence too.
Karl Kerry, General Manager at local ship repairer business Burgess Marine, said:
The experience of working with HM Prison Ford has been a really positive experience for my business and it's something I'd recommend to other employers.

I know that any offender who comes to work with me on temporary licence as they come to the end of their sentence has been thoroughly risk assessed and vetted and there will be ongoing support in place from the prison. Chris is one of the offenders who has joined us on a temporary work placement from prison and I've been hugely impressed by his commitment and professional expertise.

During his sentence, Chris learnt various skills, including steelwork manufacturing, welding and engineering. He has since obtained his forklift and telescopic handler ticket and is PASMA (scaffold tower erection) trained. Chris is now putting all these skills into practice in a working environment where he's part of the shiplift docking crew, dry docking ships up to 1000 tonnes.

Chris has also trained in health and safety and Personal Protective Equipment (PPE), correct use of tools, first aid and is part of the rescue team for confined space works.
The Prisons Minister Andrew Selous has been urging employers across the country to join the Employers' Forum for Reducing Reoffending (EFFRR), a business to business network which provides advice and support to businesses who may be considering employing offenders.
Andrew Selous, Prisons Minister, said:
Great businesses don't necessarily follow well-trodden paths for recruitment and I am pleased to see so many open-minded businesses here at HM Prison Ford. I hope that they will see dedicated, motivated and skilled potential employees in the offenders they meet today.

We need a new focus which gives prisoners a chance to turn their lives around for good through sustained job opportunities when they leave prison.

Ultimately schemes like this are about protecting the public. By giving prisoners the skills and work opportunities they need to find work, we can help reduce reoffending, cut crime and make our streets safer.
Stephen Fradley, Governor at HM Prison Ford, said:
I am pleased to welcome so many businesses to HM Prison Ford and look forward to showcasing the excellent work taking place here.

One of the most important ways we can reduce reoffending and prevent victims is to make sure ex-offenders have the right skills and employment opportunities available to them on release so that they can contribute to society and the economy.

We're keen to continue the momentum from this event and foster links with businesses who can help us provide meaningful work-based activity and education to offenders in custody and on release.
Notes for editors
Employers' Forum for Reducing Reoffending (EFFRR) is a group of local and national employers that provide job opportunities for offenders.

to join EFFRR or to find out more, please complete the form in the 'Sign-up to EFFRR' section.
For more information, please contact Louise Northam on 0203 334 3510 or email Louise.Northam1@justice.gsi.gov.uk.
Published 12 May 2016