News story
Businesses compete for Regional Growth Fund
The Regional Growth Fund is designed to encourage growth and jobs in the private sector and support regions that are overly dependent on the…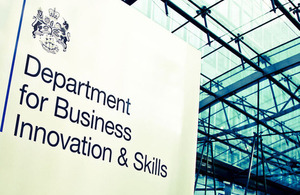 The Regional Growth Fund is designed to encourage growth and jobs in the private sector and support regions that are overly dependent on the public sector. The first two rounds are set to create and protect 328,000 jobs across the country.
The third round has now closed. The 409 projects, which altogether have bid for £2.68 billion will now be assessed by the Independent Advisory Panel, chaired by Lord Heseltine, over the summer. The panel will then make recommendations to a Ministerial Group, led by Deputy Prime Minister Nick Clegg, that will make the final decisions as to which proposals should receive funding.
It is expected that the successful bidders will be announced in the autumn.
There was a strong regional spread across England with the most bids coming from the North West region which bid for 13% of the funding. Similarly the West Midlands bid for 15% of the funding - the highest percentage out of all the regions.
Deputy Prime Minister, Nick Clegg, said:
"The Regional Growth Fund is already helping companies across the country grow their businesses and create jobs that last.
"£1.4 billion has already been allocated to 176 businesses, which are expected to create and protect up to 328,000 jobs. So far 96 of these businesses have started accessing their funding, and many projects have started their projects while they wait for a final offer.
"This third round will continue to create jobs by unlocking private sector investment, letting businesses in Britain thrive. There has been a fantastic response from businesses bidding for a share of the extra £1 billion funding. I look forward to announcing which projects will benefit."
Business and Enterprise Minister Mark Prisk said:
"The high number of applications for Round three of the Regional Growth Fund is really encouraging. Despite the uncertainty in the financial markets concerning the Eurozone, the Regional Growth Fund has still recorded over 400 bids from a wide range of projects.
"Initial indications show that Round three bids could deliver similar levels of private sector leverage to previous rounds, approximately £6 for every £1 of taxpayers' money."
So far the Regional Growth Fund is already having a huge impact from rounds one and two, leveraging around £7.5 billion of private sector investment.
For example, Bridon International, based in Newcastle, is developing a state-of-the-art manufacturing facility and installing a rope closing machine which would allow the production of the world's longest multi-strand ropes capable of bearing extremely heavy loads. Bridon were awarded £2 million from Round one, towards an overall £30 million project cost, and will create 188 new jobs.
Bridon Chief Executive Jon Templeman said:
"As well as creating jobs and driving local investment, this state-of-the-art manufacturing facility will play a key role in re-establishing Tyneside as a hub of high-tech manufacturing. The ropes produced by Bridon Neptune Quay will be the largest and most complex in the world, and will help customers across the oil and gas and mining sectors explore greater depths in more challenging environments."
Deafinitions, a social enterprise in Yorkshire applied for £1.9 million from the first round. They are receiving funding and working to empower and educate deaf people by providing learning opportunities.
In Round two, Accrol Papers, a soft-tissue converter, was awarded £1.4 million to create over 100 new jobs, for a project to extend and improve production facilities in Blackburn. This will help them meet anticipated increase in demand as well as realising operational efficiency savings.
These are just some of the projects that the Regional Growth Fund has helped. Further successful bidders will be announced in the coming months.
Notes to editors
The Regional Growth Fund is a £2.4 billion fund designed to support businesses with projects that will create jobs in areas dependent on the public sector and will be supported by private sector investment.

The regional split is as follows:
Region
Bids
Ask
Number
%
£m
%
North East
71
17%
342
13%
North West
76
19%
362
13%
Yorkshire and Humber
61
15%
345
13%
East Midlands
38
9%
124
5%
West Midlands
57
14%
410
15%
Nationwide
27
7%
565
21%
South East
24
6%
137
5%
South West
40
10%
316
12%
London
6
1%
26
1%
East of England
9
2%
56
2%
---
---
---
Programme/ Project
---
---
Programme
126
1421
Project
283
1260
Total
409
2682
All the bids received in the third round of the Regional Growth Fund are commercially sensitive and it is not possible to publish the names of the bidders or details of the proposals.

For more information on the Regional Growth Fund, including summary details of bids in the third round (total number and regional spread please visit: http://www.bis.gov.uk/rgf

Details of the number of bids in each LEP area will be available on the BIS website shortly.

For Round three the timings have been improved so that the terms of a conditional offer must be agreed within three months of the announcement, and bidders then have a further three months to complete due diligence. They will then sign a final offer. If the process takes longer than six months despite our best efforts, we reserve the right to withdraw the offer of funding.

The Plan for Growth sets out the Government's economic policy objective 'to achieve strong and sustainable growth that is more evenly balanced across the country and between industries. This includes:
To create the most competitive tax system in G20

To make the UK the best place in Europe to start, finance and grow a business**

To encourage investment and exports as a route to a more balanced economy.**

To create a more educated workforce that is the most flexible in Europe.
BIS's online newsroom contains the latest press notices, speeches, as well as video and images for download. It also features an up to date list of BIS press office contacts. See http://www.bis.gov.uk/newsroom for more information.
Notes to Editors
Contact Information
Name BIS Press Office Job Title
Division Department for Business, Innovation & Skills Phone
Fax
Mobile
Email bispress.releases@bis.gsi.gov.uk
Name Ed Smith Job Title
Division Department for Business, Innovation and Skills Phone 020 7215 5945 Fax
Mobile
Email ed.smith@bis.gsi.gov.uk
Published 19 June 2012