News story
Business Secretary visits south-east Asia to strengthen trade relationship
Starting in Singapore, one of the UK's largest export markets, and moving on to two significant emerging markets in Indonesia and Vietnam, Vince…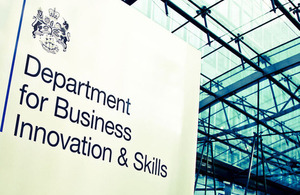 Starting in Singapore, one of the UK's largest export markets, and moving on to two significant emerging markets in Indonesia and Vietnam, Vince Cable will be meeting with British businesses and ministerial counterparts to improve market access, agree further collaboration in areas of British expertise such as research and development, and promote the UK as a leading destination for foreign investment.
Vince Cable said:
"Strong trade relationships are a key element of the govt's growth plan as we build a more balanced economy based on investment and exports.
The markets that I'm visiting in South East Asia are all enjoying impressive growth rates and offer good investment and export opportunities for British businesses both large and small. I hope that my visit will cement the UK's position as a serious presence in the region."
In Singapore, the Business Secretary will:
Sign a Memorandum of Understanding with Singapore Minister for Trade and Industry Mr Lim Hng Kiang to launch the UK-Singapore Business Partnership. This will provide a framework to maximise business opportunities, increase co-operation on R&D and share best practice.
Attend the signing of a Memorandum of Understanding between the National University of Singapore and the London School of Hygiene and Tropical Medicine. This will create a new regional hub for public health research, training and innovation.
Deliver a speech at the Singapore Energy summit to promote the UK's reputation as a business partner for tackling climate change.
In Indonesia, the Business Secretary will:
Take part in the topping out ceremony of World Trade Centre 11, designed and developed in partnership by British and Indonesian companies. It is the first certified green building in Jakarta's Central Business District.
Attend a Higher Education policy dialogue to encourage greater research cooperation between the UK and Indonesia.
Announce the establishment of the UK ASEAN Business Council, to help increase our levels of trade with ASEAN markets and encourage businesses of all sizes to develop business in these markets.
In Vietnam, the Secretary of State will:
Attend a reception to mark the inauguration of direct flights between the UK and Vietnam starting in December. This will provide a significant boost to trade, making it easier for Vietnamese and British companies to do business with each other and strengthening our educational and cultural links.
Attend an event to mark the successful launch of Premier Oil's 'First Oil Project, the largest British-led investment in Vietnam with a value of almost £800 million.
Open the fifth JETCO (Joint Economic and Trade Committee) meeting in Hanoi to address ongoing market access issues and trade barriers. Previous meetings have produced valuable outcomes such as direct flights, reduced tariffs and improved visa processing.
---
Notes to editors:
---
The visit will take place on the following dates:
Singapore 31 October.
Indonesia 1-2 November.
Vietnam 2- 4 November.
Background information on Singapore:
Singapore is the UK's largest trading partner in South-East Asia (Singapore accounts for two thirds of UK exports to the region) and one of its largest export markets outside Europe.

In 2010 Singapore was the UK's 19th largest goods export market (£3.29billion - a 15% increase on 2009) and the 22nd largest for imports (£3.99billion - an increase of 18% on 2009).

Over 700 British companies are based in Singapore. The vast majority of whom run their regional operations from the City state. Shell Celebrating 120 years in Singapore
Background information on Indonesia
Trade between UK and Indonesia valued at £1.7 billion in 2010. Balance very much in Indonesia's favour (UK exports to Indonesia £436million, Indonesia exports to UK £1.3 billion).

UK exports to Indonesia increased by 25% year on year in 2010, and Indonesia's exports to the UK increased by 13% in the same period. Bilateral trade now valued at £1.7bn.

UK one of the largest investors in Indonesia. This includes the oil and gas sector, financial services, pharmaceutical, construction and retail.
Background information on Vietnam
UK is the third largest investor in Vietnam with 138 ongoing investments worth US$2.2bn in 2010, including oil and financial services.

Export led economic growth averaging 7% over the past decade and the rate is just second only to China. Most analysts expect GDP growth of 6% in 2011.

At £276.3m in 2010 UK exports of goods only to Vietnam increased by 32% year on year. Imports of goods only from Vietnam were worth £1.2b an increase of 15%.
BIS's online newsroom contains the latest press notices, speeches, as well as video and images for download. It also features an up to date list of BIS press office contacts. See http://www.bis.gov.uk/newsroom for more information.
Notes to Editors
Contact Information
Name BIS Press Office Job Title
Division COI Phone
Fax
Mobile
Email NDS.BIS@coi.gsi.gov.uk
Name Lucy Bell Job Title
Division Department for Business, Innovation and Skills Phone 020 7215 5361 Fax
Mobile
Email Lucy.Bell@bis.gsi.gov.uk
Published 31 October 2011