Press release
Business Secretary scrums down with England rugby supplier
Business Secretary Sajid Javid visits the world's largest manufacturer of mouthguards and official supplier to the England rugby team.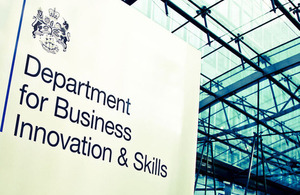 With the Six Nations now underway, Business Secretary Sajid Javid today (11 February 2016) visited OPRO UK in Hemel Hempstead, the world's largest manufacturer of mouthguards and official supplier to the England rugby team.
OPRO UK was set up by dentist Dr Anthony Lovat in his home over 20 years ago after realising the damage rugby was having on children's teeth. Awarded a Queen's Award for Innovation, the UK based company now exports to 30 countries worldwide and supplies top national and international rugby teams from around the world. These include World Cup winners New Zealand, former Premiership Champions Harlequins and 10 of the current Aviva Premiership teams. OPRO also supplies mouthguards to over 1,000 schools and clubs from all over the UK.
Business Secretary Sajid Javid said:
Many successful entrepreneurs start by spotting a gap in the market and working from home. OPRO shows what can be achieved with hard work and a can-do attitude. It's a company that has been rightly recognised for its innovation and world-leading technology.

I am hugely impressed by the success the company has had exporting all over the world, to world class teams like Australia and New Zealand, as well as supplying the England team, schools, amateur clubs and individuals.
From its UK base in Hemel Hempstead, OPRO can produce up to 15,000 mouthguards a week. The mouthguards are then shipped to schools, colleges, sports players and clubs all around the world.
Dr Anthony Lovat, founder of OPRO said:
We are a team at OPRO and everything you see here today is the result of the hard work of a group of dedicated employees. I am passionate about maintaining a manufacturing base in the UK and delighted that the work we have done and continue to do in oral protection has prevented many children and adults from losing teeth as a result of a sporting accident.
Dr Mike England, Rugby Football Union Community Rugby Medical Director added:
We've been working with OPRO for a number of years, including through our All Schools programme. Their support of our player safety education embedded in that programme, and through the provision of their high quality mouth guards especially for the young players has been invaluable for the community game.
Sally Marshall, CEO of Dacorum Borough Council says:
We are proud to have such innovative businesses as OPRO in Hemel Hempstead and this is why we support the Hemel Hempstead Business Ambassador scheme, so that there is an increased awareness of everything this area has to offer. OPRO continue to develop and grow within the business community and we hope to work with all local businesses to see them achieving such successes.
Andy Reynolds, Harlequins Head of Medical Services commented:
OPRO offer Harlequins an excellent service of a good quality product for all of our professional athletes. We are delighted with how the partnership has worked to date and we look forward to continuing to work with them in the future.
Published 11 February 2016