News story
Business Secretary intervenes in proposed BSkyB acquisition
The intervention, under Section 67 of the Enterprise Act 2002 was made on the basis of the submissions and information that the Secretary of…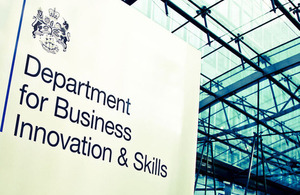 The intervention, under Section 67 of the Enterprise Act 2002 was made on the basis of the submissions and information that the Secretary of State has received regarding the proposals.
The notice requires that Ofcom investigates the public interest consideration of media plurality that arises from News Corp's proposal and submits a report by 31 December. Owing to the size of the acquisition, the European Commission will investigate the proposed acquisition on the grounds of competition and it will announce its own decision by 8 December.
Secretary of State, Vince Cable, said:
"On the basis of the information and submissions available to me, I have decided that it is appropriate to issue an intervention notice in this particular case.
"The independent experts at Ofcom will now investigate and report to me on the media plurality issues that may arise from this proposed acquisition."
A further announcement will be made once the Secretary of State has considered Ofcom's report where he will make a further decision on whether or not to refer the matter to the Competition Commission.
Notes to editors:
---
The intervention notice is available here: http://www.bis.gov.uk/assets/biscore/business-law/docs/b/bskyb-intervention-notice-nov-2010.

Guidance on when an intervention will be made on media plurality public interest grounds is available here: http://www.bis.gov.uk/files/file14331.pdf

If a reference to the Competition Commission was made, it would consider the only the media plurality issues arising from the proposed transaction, not the impact on competition. The EC will consider the competition aspect.

The notice requires Ofcom to investigate the merger's potential impact on the public interest as it relates to ensuring the sufficiency of plurality of persons with control of media enterprises.

BIS' online newsroom contains the latest press notices, speeches, as well as video and images for download. It also features an up to date list of BIS press office contacts. See [http://www.bis.gov.uk/newsroom](http://www.bis.gov.uk/newsroom) for more information.
Notes to Editors
Contact Information
Name BIS Press Office Job Title
Division COI Phone
Fax
Mobile
Email NDS.BIS@coi.gsi.gov.uk
Name Olivia Campbell Job Title
Division Department for Business, Innovation and Skills Phone 020 7215 5363 Fax
Mobile
Published 4 November 2010