News story
Business Secretary focuses on growth during Welsh manufacturing tour
Vince Cable attended a roundtable discussion in Swansea hosted by the South Wales Chamber of Commerce with leading manufacturers across the …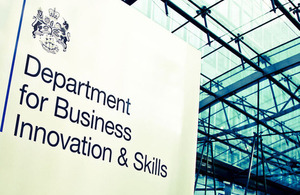 Vince Cable attended a roundtable discussion in Swansea hosted by the South Wales Chamber of Commerce with leading manufacturers across the region.
He will then tour the Tata Steel plant at Port Talbot and see the blast furnace that is due for a rebuild as part of plans for an £185 million investment by Tata Steel to improve efficiency and productivity at the site.
His next stop will be at Bridgend, the global centre of Ford's petrol engine production. The Business Secretary will see the latest state-of-the-art technology used in the EcoBoost engines produced at the plant and exported across the world.
Vince Cable said: "We are fortunate to have two globally renowned manufacturers here in South Wales. A third of all Ford auto engines sold internationally are made in Bridgend and Dagenham while steel manufactured at Port Talbot is successfully exported across the world.
"Both Tata Steel and Ford are investing millions in the UK, safeguarding and creating jobs. They demonstrate why manufacturing will play a key role in producing more sustainable growth not stimulated by property bubbles or over reliant on the financial services."
The Business Secretary will be accompanied on the visit by Welsh Secretary Cheryl Gillan, who invited him to Cardiff to talk to her Business Advisory Group and hear first hand the issues businesses in Wales currently face.
Welsh Secretary Cheryl Gillan said:
"I am delighted that the Business Secretary could join us today to discuss the detail of the Plan for Growth with my Business Advisory Group and to highlight how new measures to boost trade and investment in the UK can benefit Wales.
"As a Government we want to send out the message that Wales is open for business and as chair of the Business Advisory Group I am keen to voice the views of businesses to my cabinet colleagues and also to highlight the important role Wales plays in private sector growth, manufacturing and enterprise in the UK, so I am delighted that the Business Secretary has joined us in Wales today to discuss these issues."
Notes to editors:
Vince Cable asked UK manufacturers to open their doors for a day to students and teachers to get an insight into engineering and manufacturing careers at the Manufacturing Summit on 25 January. The automotive sector is spearheading See Inside Manufacturing this year, and will be rolled out across the manufacturing sector in 2012.

BIS's online newsroom contains the latest press notices, speeches, as well as video and images for download. It also features an up to date list of BIS press office contacts. See http://www.bis.gov.uk/newsroom for more information.
Notes to Editors
Contact Information
Name BIS Press Office Job Title
Division COI Phone
Fax
Mobile
Email NDS.BIS@coi.gsi.gov.uk
Name Rebecca Murrell Job Title
Division Department for Business, Innovation and Skills Phone 020 7215 6403 Fax
Mobile
Published 29 March 2011