News story
Business Secretary encourages a new generation of apprentices to join Aerospace Industry
Vince Cable will make the opening speech of the show at the Sustainable Aerospace Conference where he will commit to giving the industry the…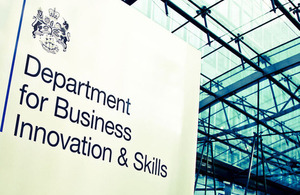 Vince Cable will make the opening speech of the show at the Sustainable Aerospace Conference where he will commit to giving the industry the skills and research base they need to compete internationally.
There is currently unmet employer demand for apprenticeships at advanced and higher level, particularly in sectors such as engineering.
The Government is working to expand apprenticeships at Level 3 and above and is improving progression routes from foundation level and into higher levels and professionals skills.
As part of this commitment Vince Cable has agreed to chair regular meetings with aerospace business leaders to focus on major strategic issues facing the aerospace sector.
Business Secretary Vince Cable said:
"I am looking forward to visiting the world leading British aerospace companies at today's show, where I am hoping to see first hand everything from the enormous A380 to intricate brake discs.
"The breadth of expertise in this sector is incredible, but for our industry to maintain its position in the global market, we will need a new generation of inspired workers with the skills and new ideas to push aerospace forwards.
"This government working together with industry will support the sector by delivering the right skills where they are needed most.
"We will encourage a new generation of talent by investing in high level apprenticeships and sustaining a high-performing research environment."
Business Minister Mark Prisk will also attend the Air Show where he will chair the Airbus meeting with other European ministers.
While at the show Mark Prisk will meet with ADS, trade delegations and small businesses from the aerospace sector.
Business Minister Mark Prisk said:
"Aerospace is a huge regional employer and is the engine of many regional economies so I am looking forward to meeting some of the small businesses who play a vital role in the aerospace supply chain.
"The air show will also be a great opportunity for me to meet trade delegations and encourage more international business in this sector.
"Exports account for 69 per cent of aerospace sales which is vital for both this industry and for boosting the UK economy."
Minister of State for Universities and Science, David Willetts, will be visiting the air show on Wednesday to promote the UK space industry.
Notes to editors:
To set up a media interview please contact Lucy Michael-Sutton on 0207 215 5977 or email lucymichael.sutton@bis.gsi.gov.uk

Vince Cable's opening speech will take place between 10:30 to 11 in the conference centre

Journalists can attend the roundtable with A380 suppliers between 11 to 11:25 and Vince Cable's tour of the A380 between 11:25-11:50

The Airbus ministerial press conference will take place at 16.30 in the BAE park centre. Business Minister Mark Prisk will host this press conference, with Airbus member nation colleagues, Dominique Bussereau, Secretary of State for Transport (France), Teresa Santero, Secretary General for Industry (Spain) and Peter Hintze, Parliamentary State Secretary and Federal Government's Coordinator of Aerospace Policy (Germany)

For high resolution images and YouTube quality videos of Vince Cable and Mark Prisk at the airshow, please see BIS' online newsroom [http://www.bis.gov.uk/newsroom](http://www.bis.gov.uk/newsroom)

For further information on David Willetts' visit to the air show on Wednesday please contact Paul Conroy on 0207 215 5303 or email paul.conroy@bis.gsi.gov.uk

BIS' online newsroom contains the latest press notices, speeches, as well as video and images for download. It also features an up to date list of BIS press office contacts. See [http://www.bis.gov.uk/newsroom](http://www.bis.gov.uk/newsroom) for more information.
Notes to Editors
Contact Information
Name BIS Press Office Job Title
Division COI Phone
Fax
Mobile
Email NDS.BIS@coi.gsi.gov.uk
Name Ashley Rogers. Job Title
Division Department for Business, Innovation and Skills Phone 020 7215 5971 Fax
Mobile
Published 19 July 2010