Business Secretary calls on universities to tackle violence against women on campus
A taskforce to help reduce violence against women and girls on university campuses has been announced by Business Secretary Sajid Javid.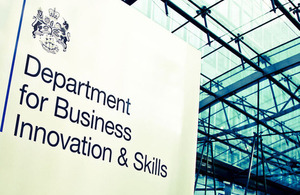 Universities UK has been asked to set up and lead the taskforce with the support of the Department for Business, Innovation and Skills. The taskforce will work with the higher education sector, to develop a code of practice to bring about cultural change, leverage existing complaints mechanisms more effectively and improve engagement with Crime Prevention Officers.
Business Secretary Sajid Javid said:
Nobody should be put off going to University because of fears about their safety. If my children choose that path, I would expect my daughter to be as safe as my son on any campus in this country. This taskforce will ensure that universities have a plan to stamp out violence against women and provide a safe environment for all their students.

We do not tolerate this behaviour in any part of society and I'm not prepared to let it take place on university campuses unchecked.
The taskforce is expected to be convened in the autumn (2015) and work over a 12 month period.
In a letter to Nicola Dandridge, CEO of Universities UK, the taskforce has been asked to:
develop a code of practice for institutions to support cultural change
explore how a kitemark scheme could be developed and awarded to successful institutions
explore how better to engage with Crime Prevention Officers
ensure best use of the existing complaints mechanisms such as the Equality and Human Rights Commission (EHRC) and, for students, the Office of the Independent Adjudicator
encourage institutions to ensure that the right links are in place with existing local activity, including through the Home Office Violence Against Women and Girls Strategy
Universities Minister, Jo Johnson said:
"Universities already take their responsibilities for the safety of all students incredibly seriously. They have strong clear legal duties through the Equalities Act 2010 and the Public Sector Equality Duty. This task force will make sure that the universities are doing all they can to meet their legal obligations and, will see where they can go further.
The taskforce will report back to the Universities Minister Jo Johnson and the Secretary of State for the Department for Business.
Notes to editors
Official data is not available but 1 in 7 women responding to the NUS Hidden Marks survey had experienced a serious physical or sexual assault during their time as a student. Over 2 thirds had experienced verbal or non-verbal harassment, including groping, flashing and unwanted sexual comments, and 12% of respondents had been subjected to stalking.
We have asked Universities UK to set up the task force and will confirm full membership in due course.
Many universities are currently involved in campaigns and initiatives, often with Students' Unions, to help guarantee student safety. Nationally, Universities UK has been working with others such as the Equality Challenge Unit on lad culture, sexual harassment and sexual violence at universities.
Universities UK Chief Executive Nicola Dandridge last week published a blog on the scale of the issue and the work institutions are doing.
The Universities UK taskforce will complement the government's Violence Against Women and Girls Strategy, led by the Home Office. We will be publishing a new Strategy in the autumn (2015) and are consulting on it at the moment.
Published 6 September 2015