News story
Business Secretary backs growth in Yorkshire
Business Secretary Vince Cable said: "The Government is committed to help close the gap between North and South and encourage strong and …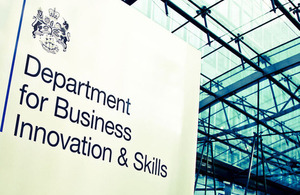 Business Secretary Vince Cable said:
"The Government is committed to help close the gap between North and South and encourage strong and sustainable growth across different industries. Today's visit to Yorkshire highlights how different sectors and companies are playing their part from greener manufacturing to exports."
The Business Secretary is opening the University of York's Biorenewables Development Centre which has been supported by £2.5 million funding from the Department for Business, Innovation and Skills.
It will provide industry with new greener manufacturing methods to convert plants and wastes into high value products. Its open-access facility will also help bridge the gap between laboratory research and the commercialisation of technology.
It's then full speed ahead when Vince Cable visits the motor racing company, Ginetta, in Garforth, Leeds. He will tour their purpose built facilities and see the design and production areas before having a spin in one of their road cars.
Ginetta has increased production from 10 cars a year in 2008 to 100 cars a year currently and have plans to treble this figure. They export cars to take part in races across the world.
The Minister will welcome today's news that Group Rhodes has won three export orders worth £24.5 million when he visits the engineering firm's head office in Wakefield. Manufacturing accounts for half of UK exports and Group Rhodes has a successful track record. This year it has been recognised again with a Queen's Award for Enterprise for its achievements in overseas markets.
During his tour of the manufacturing facility where they design and make special purpose machinery, he will meet some of the company's apprentices.
**Notes to editors:
**1. The Department for Business, Innovation and Skills (BIS) awarded the Biorenewables Development Centre (BDC) a £2.5 million capital grant to create an open access pilot scale facility focusing upon the extraction of high value chemicals from plants. The BIS funding enables the BDC to provide a truly unique capability that encompasses state-of-the-art technologies associated with rapid genomics based feedstock development and downstream extraction and processing of the resulting feedstock. More on the Biorenewables Development Centre can be found at http://www.biorenewables.org/.
The Government's economic policy objective is to achieve 'strong, sustainable and balanced growth that is more evenly shared across the country and between industries.' It set four ambitions in the 'Plan for Growth' (PDF 1.7MB), published at Budget 2011:
To create the most competitive tax system in the G20;
To make the UK the best place in Europe to start, finance and grow a business;
To encourage investment and exports as a route to a more balanced economy;
To create a more educated workforce that is the most flexible in Europe.
Work is underway across Government to achieve these ambitions, including progress on more than 250 measures as part of the Growth Review. Developing an Industrial Strategy gives new impetus to this work by providing businesses, investors and the public with more clarity about the long-term direction in which the Government wants the economy to travel.
Apprenticeships are at the heart of our drive to equip people of all ages with the skills employers need to prosper and compete, often in a global market. The Government has committed to help more people to benefit from high quality apprenticeships. Research shows that apprenticeships help employers improve productivity and give them a competitive edge.
Key facts:
Investment of over £1.4 billion in the 2011-12 financial year has been increased to £1.5 billion in 2012-13.

Final data published in the Statistical First Release (31 Jan 2012) shows** **457,200 apprenticeship starts in the 2010/11 academic year - an increase of 63.5 per cent over 2009/10.
BIS's online newsroom contains the latest press notices and speeches, as well as video and images for download. It also features an up to date list of BIS press office contacts. See http://www.bis.gov.uk/newsroom for more information.
Notes to Editors
Contact Information
Name BIS Press Office Job Title
Division Department for Business, Innovation & Skills Phone
Fax
Mobile
Email bispress.releases@bis.gsi.gov.uk
Name Rebecca Murrell Job Title
Division Department for Business, Innovation and Skills Phone 020 7215 6403 Fax
Mobile
Published 5 July 2012