News story
Business Secretary announces new Technology Strategy Board Chair
Mr Smith is UK and Ireland Chief Executive of technology company Cisco. Vince Cable said: "Innovation is central to the Government's plans…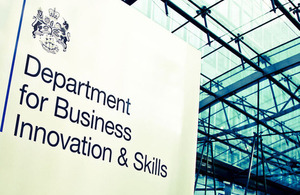 Mr Smith is UK and Ireland Chief Executive of technology company Cisco.
Vince Cable said:
"Innovation is central to the Government's plans to rebalance the economy. The Technology Strategy Board plays a vital role in developing innovative technologies in the UK, giving businesses the opportunity to grow, and I am pleased that we have been able to appoint someone of Phil Smith's calibre to this position.
"I would also like to thank the outgoing Chair, Graham Spittle. Graham has played a key part in establishing the Technology Strategy Board as the Government's prime channel for driving business led technology innovation."
New Chair of the board Phil Smith said:
"It's a great honour to be offered the position of Chair on the Government's Technology Strategy Board and it is one that I gladly accept. One of the key opportunities the role brings, which I intend to address, will be to raise the profile of the TSB across the UK and increase its reach, influence and impact.
"Science, technology and innovation are vital in addressing some of the challenges we face as a country and are crucial in generating sustainable economic growth. I welcome this opportunity to help direct and influence the Government's approach to innovation and our potential to be a leading light on the world stage."
Phil Smith will begin his term on 1 December 2011 for an initial period of four years.
**Note to editors:
**1. The Technology Strategy Board is an executive Non Departmental Public Body sponsored by the Department for Business Innovation and Skills. It is a business-led body that plays a cross-government leadership role in delivering a national technology strategy and advising on policies which relate to technology innovation and knowledge transfer. It is the prime channel for delivering government support for business-led technology innovation and operates across all important sectors of the UK economy to stimulate innovation in those areas which offer the greatest scope for boosting UK growth and productivity.
For further information: http://www.innovateuk.org.
This appointment has been made in accordance with the requirements of the Code of the Commissioner for Public Appointments. All appointments are made on merit and political activity plays no part in the selection process. Phil Smith has declared he has not undertaken any political activity in the last five years.

The Chair of the Technology Strategy Board receives remuneration of £15,720 per year.

Phil Smith is UK & Ireland CEO of Cisco and is responsible for the company's largest operation outside of North America. An advocate of technology and innovation to the region's business and political leaders, Phil sits on a number of boards including; Young Enterprise, the Employers Forum for Disability/British Taskforce for Accessible Technology, and is chair of e-Skills UK. He has a thirty year track record within the ICT industry, advising leading global organisations in the private and public sector on how to innovate and drive transformation, productivity and sustainable growth.

BIS's online newsroom contains the latest press notices, speeches, as well as video and images for download. It also features an up to date list of BIS press office contacts. See http://www.bis.gov.uk/newsroom for more information.
Notes to Editors
Contact Information
Name BIS Press Office Job Title
Division COI Phone
Fax
Mobile
Email NDS.BIS@coi.gsi.gov.uk
Name Dan Palmer Job Title
Division Department for Business, Innovation and Skills Phone 020 7215 5303 Fax
Mobile
Published 21 November 2011