News story
Business schools must do more to flex 'muscle' of economy
The Business Schools Task Force report recognises that there is a lot of good work already being done but issues a call to action to help mid…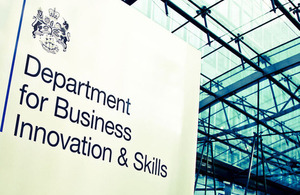 The Business Schools Task Force report recognises that there is a lot of good work already being done but issues a call to action to help mid-sized companies more - firms that have been described as the "muscles" of the economy, by Business Minister Michael Fallon.
The report sets out a number of practical steps to help improve how schools and the 10,000 mid sized companies in the UK work together to support growth, improve company management and develop courses that are attractive to local firms. Recommendations from the report include:
Business schools should actively target mid-sized firms, offering them taster sessions and tailoring their courses to the needs of their local mid sized businesses.
Mid-sized companies should work with their local business school to examine their management practices and look at how they could be improved.
Business schools should promote careers in mid-sized companies to their students, and should encourage speakers from mid sized firms to come and speak at their schools.
Mid-sized businesses should be involved in the management and advisory boards of business schools to ensure that the voice of local firms is heard.
Speaking at the Institute of Directors annual dinner, Business Minister Michael Fallon said:
"The UK's 10,000 mid-sized firms are the muscles powering our economy, but we must make sure that those muscles are trained and working at the top of their game. This report spells out the practical measures that must happen to make sure of success.
"Our firms will miss out if they do not invest in their people and see what their local business school has to offer. Companies and business schools should look closely at the report's recommendations so they can realise their growth potential."
Chair of the Business schools taskforce Professor Sue Cox said:
"Our challenge as a Task Force was to advise on how our mid-sized businesses could become even more successful and, in so doing, could better engage with business schools in their local area. It was clear from the Task Force's research that there are some excellent examples of good practice in reaching out to mid-sized firms but, equally, that there is much that business schools and mid-sized firms can do in support of this mission.
"Our report sets out practical and achievable steps to help make this happen, and I hope that companies and business schools from across the country take our findings on board."
The task force is made up of business school leaders and business representatives. It was set up to examine how business schools from across the country could support and improve the management of the 10,000 mid sized firms in Britain. The report was commissioned by the Government as part of the mid-sized business growth review.
The report has been welcomed by the Confederation of British Industry, Association of Business Schools and Institute of Family Business, who have committed to work with the Task Force and the Government to help implement the recommendations.
Emma Wild, Head of Enterprise at the CBI said:
"This report is right to look at ways of improving collaboration between medium-sized businesses (MSBs) and business schools, which will be a valuable initiative to help these firms grow and create jobs.
"CBI research shows that growing MSBs could add £20billion to the UK economy by 2020. Strong leadership capabilities and access to top talent will be a key part of ensuring MSBs fulfil their potential.
"At the moment too many MSBs are unaware of or unconvinced by business school collaboration, so the practical ideas in this report should help persuade them of the value of engagement;­ for example, the availability of 'mini-MBAs', a tailored version of executive programmes to support firms who may not have the time or financial resources for traditional MBA courses."
Mark Hasting, Director General of the IFB, says:
"We fully support the work of the Business Schools MSB Task Force and welcome this practical report on the next steps needed to improve relationships between Business Schools and MSBs. Many of our members demonstrate a clear demand for more Family Business focused training which is not currently being fully met by UK Business schools.
"The report presents a tremendous opportunity for business schools to work more closely with family firms and we look forward to supporting the development of these new relationships".
Paul Marshall, Chief Executive of the Association of Business schools said:
"Autonomy and competition coupled with sustained government investment has created an environment in which the UK's business schools have thrived. Our challenge now is to sustain and grow our Schools within a world dramatically altered by new economic circumstances. In this context, the Association of Business Schools welcomes the final report of the Business Schools Task Force and its useful recommendations to establish new, deep and sustainable relationships between business schools and MSBs."
Notes to Editors
The Government established the Business Schools Task Force in November 2011 to report on options for improving access to appropriate courses and promoting links between mid-size businesses, business schools and students.

The members of the Business Schools taskforce are listed below:
Professor Sue Cox (Chair) - Lancaster University Management School
Professor Kevin Barber - Bradford University School of Management
Professor Abby Ghobadian - Henley/Reading School of Management
Professor Paul Humphreys - Ulster Business School, University of Ulster
Elspeth MacFarlane - Oxford Brookes University Business School
Mr. Simon Earp - University of Edinburgh Business School
Dr Patrick Tissington - Aston Business School
Professor Rita Marcella - Robert Gordon University, Aberdeen
Professor Marie McHugh - Ulster Business School, University of Ulster
Professor Stephen Roper - Warwick Business School
Professor Richard Thorpe - Leeds University Business School
Dr Mary Meldrum - Manchester Metropolitan University Business School
Professor Simon Mosey - Nottingham University Business School
Professor Phil Harris - University of Chester
Professor Angus Laing - Loughborough University
Professor Jim Saker - Loughborough University School of Business and Economics
Professor Robin Mason - Exeter Business School
Hayley Conboy - CBI
Mark Robson - UKTI
Professor Mike Jones - Foundation for Management Education (FME)
Paul Marshall - Association of Business Schools
A copy of the task force's report can be found here: http://www.bis.gov.uk/assets/biscore/further-education-skills/docs/b/12-1290-business-school-mid-sized-business-collaboration.pdf

The Government's economic policy objective is to achieve 'strong, sustainable and balanced growth that is more evenly shared across the country and between industries'. It set four ambitions in the 'Plan for Growth' (PDF 1.7MB), published at Budget 2011:
To create the most competitive tax system in the G20

To make the UK the best place in Europe to start, finance and grow a business

To encourage investment and exports as a route to a more balanced economy

To create a more educated workforce that is the most flexible in Europe.
Work is underway across Government to achieve these ambitions, including progress on more than 250 measures as part of the Growth Review. Developing an Industrial Strategy gives new impetus to this work by providing businesses, investors and the public with more clarity about the long-term direction in which the Government wants the economy to travel.
BIS's online newsroom contains the latest press notices and speeches, as well as video and images for download. It also features an up to date list of BIS press office contacts. See http://www.bis.gov.uk/newsroom for more information.
Notes to Editors
Contact Information
Name BIS Press Office Job Title
Division Department for Business, Innovation & Skills Phone
Fax
Mobile
Email bispress.releases@bis.gsi.gov.uk
Name Nick Evans Job Title
Division Department for Business, Innovation and Skills Phone 020 7215 3496 Fax
Mobile
Published 23 November 2012