World news story
Business opportunities in Peru
UK Trade & Investment organised a networking event in Lima between Volcan mining company and British suppliers that offer services and products to the mining industry in order to promote business links between British and Peruvian companies.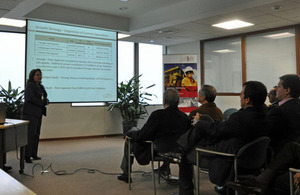 The British Embassy's Trade and Investment Office (UKTI) held a breakfast on August 08 with the mining company Volcan and UK suppliers that provide machinery and services to the sector. Volcan has leading new mining projects in Peru's central highlands, such as Alpamarca-Río Pallanga and an Silver Oxide Plant at Cerro de Pasco.
"There is a high interest in expanding our operations and developing the latest technology in Cerro de Pasco"- said Volcan's Financial Planning Manager Jorge Murillo, who presented on the company's current finances and its growth plan for the next few years.
Additionally, Mariana Castaneda, Deputy Procurement Manager, presented Volcan's two latest projects and the machinery requirements for each of them.
Partnerships between Peruvian mining companies and British suppliers guarantee the efficiency and continuity of these long-term projects in the region.
More information
UKTI seeks to promote trade links between British and Peruvian companies. In 2012 they helped over 100 UK companies do business in Peru and shared information with hundreds of Peruvian companies about opportunities to work with British companies.
If you are a British company interested in learning more about business opportunities in Peru or a Peruvian company looking for British business partners or suppliers, contact the UKTI team at the British Embassy in Lima UKTI.lima@fco.gov.uk
Published 21 August 2013