Business opportunities for Bulgarian companies in the UK
Business breakfast event gives Bulgarian companies and the UKTI Bulgaria Investment Team chance to discuss opportunities for entering the UK market.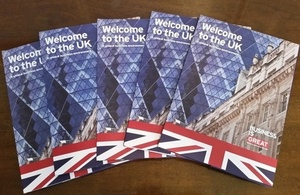 A business breakfast took place on 4 November 2014 at the British Ambassador's Residence in Sofia.
UK Trade and Investment (UKTI) Investment Director Krzysztof Jedziniak presented the United Kingdom as an investment destination. He also informed the audience how UKTI can assist Bulgarian companies to enter the British market.
The event was attended by 53 Bulgarian companies interested in discovering the business potential of the United Kingdom. It was followed by one-to-one meetings between UKTI representatives and Bulgarian companies.
H.E. Jonathan Allen, British Ambassador to Bulgaria who hosted the event said,
I am very pleased to see an increasing number of Bulgarian companies interested in doing business in the UK.

Britain remains the most attractive destination in Europe for foreign business investment, winning almost 1,800 new projects in the past year – the highest since records began in the 1980s.
Benefits of doing business in the UK
Low taxes, less regulation and a talented workforce are only some of the factors that make the UK one of the easiest places to start a business.
The UK is a leading financial centre and offers investment incentives, transparency and stable judicial system.
About UKTI
UKTI has people in over 100 markets worldwide. With local enterprise partners and devolved administrators, UKTI offers broad partner support network for the investors. UKTI's team can:
build relationships in-market
identify opportunities
provide advice, intelligence and support
bring in specialists, advisors and delivery partners in the UK
establish and manage whole-of-government relationships with major wealth creators
Contact the Central and Eastern Europe (CEE) UKTI Investment team at: ask@ukti-cee.com if you're interested in business opportunities that the British market has to offer.
Published 4 November 2014