Business mission takes flight with new British Airways service from Vancouver
Aboard the A380, the world's largest passenger aircraft, Vancouver companies head to the UK to explore European expansion.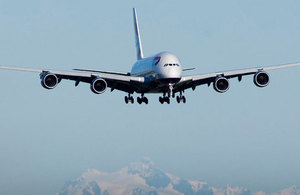 Yesterday (1 May), UK Trade & Investment (UKTI) and British Airways (BA) flew a delegation of 9 British Columbia companies on a business mission to London. Companies will take part in two days of briefings and meetings to grow their European business from the UK.
UKTI have identified 9 unique companies in the Vancouver area that are currently exploring growth outside of the North American market. Companies will have the opportunity to discuss their business plans with the UK Government, BC Ministry of International Trade European Representatives, Canadian Government, and to meet with potential clients.
Adrian Fluevog, COO, John Fluevog shoes said:
"For Fluevog, London is not only the gateway to the British market but the European market. Setting up a flagship store in the nation of shopkeepers is a key step in Fluevog expansion. The UKTI BA Mission is providing Fluevog with full service information and insight into setting up a business in the UK."
British Airways is starting their new summer route between Vancouver and London with the launch of their new A380 on Sunday, May 1. Companies, participating in the mission, had the opportunity to fly to London on the inaugural flight and will become members of BA's new On Business Rewards programme, which specifically assists small to medium size companies make their travel budget go further. The UKTI BA mission displays the level of support offered to Canadian business. There are many small to medium size businesses that can benefit from working with UKTI and BA.
About UKTI:
UKTI is the Economic Development arm of the British Government who works with UK based businesses to ensure their success in international markets through exports. We encourage and support overseas companies to look at the UK as the best place to set up or expand their business.
About British Airways:
British Airways, part of International Airlines Group, is one of the world's leading global premium airlines and the largest international carrier in the UK. The carrier has its home base at London Heathrow and flies to more than 70 different countries. British Airways carries almost 40 million customers a year and has a fleet of more than 280 aircraft.
Notes to Editor:
The nine Canadian companies participating on the mission are:
Bench Accounting: an online bookkeeping service, helping start-ups balance the books.
Community Sift: a powerful suite of tools for community management, including their reputation-driven filter solution.
Herschel Supply Co: designs and manufactures the finest quality backpacks, bags, travel goods and accessories for everyday explorers around the world.
Hootsuite: a social media management system for brand management
iQmetrix: one of the leading providers of retail management solutions for the North American retail industry
John Fluevog Shoes: a Canadian shoe designer who provides Unique Soles to Unique Souls.
Nature's Path Foods: a family-owned producer of certified organic foods.
Oak + Fort: provides a broad selection of contemporary and progressive garments catered towards a fashion conscious market
Trulioo: a leading global ID verification company providing advanced analytics based on traditional information as well as alternative sources including social login providers, ad networks, mobile applications, e-commerce websites and social networks.
Media enquiries, British Consulate-General Vancouver
Claire Wallace
1111 Melville Street, Suite 800
Vancouver British Columbia V6E 3V6
Canada
Published 2 May 2016