News story
Business Minister visits manufacturers and LEPS in West Midlands
The minister wants to meet with as many partnerships as possible as they put together strategies for growth in their local areas. Meeting local…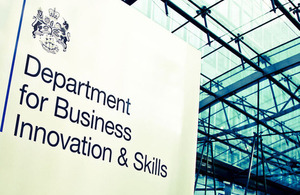 The minister wants to meet with as many partnerships as possible as they put together strategies for growth in their local areas. Meeting local businesses to discuss the individual challenges they are currently facing in the West Midlands, as well as the opportunities to stimulate growth and job creation, will help inform the government's approach to working with LEPs and supporting businesses of all sizes.
Business Minister Mark Prisk said:
"I find it extremely valuable to meet with businesses and local enterprise partnerships and hear about the different challenges they are facing and their ideas about how we can work together to stimulate growth.
"I'm keen to learn about the different and innovative approaches that businesses are taking to help them thrive in the current economic climate and listen to their ambitious and creative plans.
"Manufacturing businesses across the West Midlands have been leading the way in grasping opportunities to innovate, export and grow as the economy recovers from the recent recession. By listening directly to business this Government is better able to tackle the barriers and red tape that frustrate businesses."
Mr Prisk's tour will begin in Rugeley where he will visit the Armitage Shanks factory to discuss with management recent investments and current issues before touring the factory. He will then meet with the Stoke and Staffs local enterprise partnership at Alstrom Grid and the then the Marches partnership at Capgemini. At both of these meetings he will hear about their individual plans for economic growth in their areas, and the progress they are making so far.
He is then due to go along to Golden Bear Products Ltd in Telford, the official manufacturers of the Wenlock mascots for the 2012 London Olympics. The first day of the West Midlands tour will be rounded off at a visit to MOOG, a manufacturer of motion control technology for aircraft based in Wolverhampton.
The second day of the tour comprises of further local enterprise partnership meetings, starting with the Worcestershire partnership at Thomas Vale Construction, before meeting with the Black Country LEP at East End Foods.
There are now 35 LEPs, covering 96 per cent of businesses across England. Local enterprise partnerships bring together local businesses and civic leaders, working to support their local economy. They operate within a geography that reflects natural economic areas and provide the vision, knowledge and strategic leadership needed to drive sustainable private sector growth and job creation in their area.
Notes to editors:
---
There will be opportunities for media to speak with the minister on each day of his tour. For more details please contact the press office on 020 7215 5951.

In September 2010 the Government received 62 responses to its invitation to form local enterprise partnerships. Proposals covered every part of England outside London. The 35 partnerships approved since October are:
Black Country
Birmingham & Solihull with E. Staffordshire, Lichfield & Tamworth
Cheshire and Warrington
Coast to Capital
Cornwall & the Isles of Scilly
Coventry & Warwickshire
Cumbria
Enterprise M3
Gt. Cambridge & Gt. Peterborough
Greater Manchester
Gloucestershire
Hertfordshire
Humber
Kent, Greater Essex & East Sussex
Lancashire
Leeds City Region
Leicester & Leicestershire
Lincolnshire
Liverpool City Region
London
New Anglia
North Eastern
Nottingham, Nottinghamshire, Derby, & Derbyshire
Oxfordshire City Region
Sheffield City Region
Solent
South East Midlands
Stoke-on-Trent & Staffordshire
Tees Valley
Thames Valley Berkshire
The Heart of the South West
The Marches
West of England
Worcestershire
York and North Yorkshire
A map of approved local enterprise partnerships is available from http://www.bis.gov.uk/policies/economic-development/leps

BIS's online newsroom contains the latest press notices, speeches, as well as video and images for download. It also features an up to date list of BIS press office contacts. See [http://www.bis.gov.uk/newsroom](http://www.bis.gov.uk/newsroom) for more information.
Notes to Editors
Contact Information
Name BIS Press Office Job Title
Division COI Phone
Fax
Mobile
Email NDS.BIS@coi.gsi.gov.uk
Name Joanna Fletcher Job Title
Division Department for Business, Innovation and Skills Phone 020 7215 5951 Fax
Mobile
Published 6 July 2011