News story
Business Minister tours North West local enterprise partnerships and small businesses
Today (Thursday) he met with the local enterprise partnerships for Greater Manchester and Cheshire & Warrington. At the meeting with the Cheshire…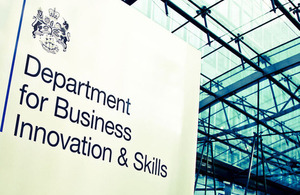 Today (Thursday) he met with the local enterprise partnerships for Greater Manchester and Cheshire & Warrington. At the meeting with the Cheshire & Warrington partnership, the Minister announced that the Government had confirmed the chair and board.
While in Manchester he will also give a speech to the North West Business Forum, before going on to visit EA technology's site near Ellesemere Port and then to a meeting with the Knowsley Chamber of Commerce.
Tomorrow (Friday) the Business Minister will be in Liverpool for a meeting with the Liverpool City Region local enterprise partnership. He is taking part in two business roundtables: one on exports, trade and investment, and another on how Liverpool is beating the recession.
Mark Prisk said:
---
"Local enterprise partnerships are key to enabling local communities to thrive and will play a very significant role in boosting growth. The partnerships I've met in the last two days are very good example of partnerships that have got off the ground quickly. They are all planning their work on their priorities, which include rebalancing the economy from the public to the private sector, by addressing skills, business support and infrastructure.
"We want to hand over power to from Whitehall to local people, local businesses and local communities - the people who are best placed to drive forward change for the better in their areas."
While in Liverpool the Business Minister will also be attending the Federation of Small Businesses conference at the BT Convention Centre.
Local Enterprise Partnerships are locally led and driven. A total of 31 partnerships have been approved across England and each are now working on plans for how they will proceed, communicating with businesses in their areas. Cheshire & Warrington is the sixth local enterprise partnership to have formally confirmed their chair and board, and many are operating with interim boards and chairs in place.
The partnerships bring together local business and civic leaders, working to support their local economy. They operate within a geography that reflects natural economic areas and will provide the vision, knowledge and strategic leadership needed to drive sustainable private sector growth and job creation in their area.
Notes to editors:
The Greater Manchester local enterprise partnership consists of 2,601,000 residents and 88,460 active enterprises (so 34 enterprises per 1,000 residents). It has 1,128,400 residents in employment (aged 16-64) and an unemployment rate of about 9.5%. The public sector accounts for 22.2% of employee jobs.

The Cheshire and Warrington local enterprise partnership consists of 887,100 residents and 37,110 active enterprises (so 41.8 enterprises per 1,000 residents). It has 414,500 residents in employment (aged 16-24) and an unemployment rate of about 6%. The public sector accounts for 18.6% of employee jobs.

The Liverpool City Region local enterprise partnership consists of 1,469,300 residents and 38,510 active enterprises (so 26.2 enterprises per 1,000 residents). It has 609,000 residents in employment (aged 16-24) and an unemployment rate of about 10%. The public sector accounts for 27.5% of employee jobs.

The Cheshire & Warrington local enterprise partnership board has the following members:

Christine Gaskell, (Chair), Bentley Motors Ltd.
Howard Hopwood (Deputy Chair), Harman Technology Ltd.
Cllr Wesley Fitzgerald, Leader, Cheshire East Council
Cllr Mike Jones, Leader Cheshire West and Chester Council
Cllr Ian Marks, Leader Warrington Council
Professor Tim Wheeler, Vice Chancellor University of Chester
Sara Mogel, Principal West Cheshire College
Alison Roylance-White, Cheshire Community Action
Martin Ashcroft, Brunner Mond
Robert Davis, EA Technology Limited
Louise Morrissey, Peel Holdings
Graham Ramsbottom, Grosvenor Estate
Nigel Schofield, Northenden Travel Group
Pete Waterman, Pete Waterman Entertainments Ltd.

The Greater Manchester and Liverpool City Region partnerships have shadow boards in place and are in the process of putting in place their formal arrangements.

In September 2010 the Government received 62 responses to its invitation to form local enterprise partnerships. The 31 partnerships approved since October are:

Black Country
Birmingham & Solihull with E. Staffordshire, Lichfield & Tamworth
Cheshire and Warrington
Coast to Capital
Cornwall & the Isles of Scilly
Coventry & Warwickshire
Cumbria
Enterprise M3
Gt. Cambridge & Gt. Peterborough
Greater Manchester
Hertfordshire
Kent, Greater Essex & East Sussex
Leeds City Region
Leicester & Leicestershire
Lincolnshire
Liverpool City Region
London
New Anglia
North Eastern
Nottingham, Nottinghamshire, Derby, & Derbyshire
Oxfordshire
Sheffield City Region
Solent
South East Midlands
Stoke-on-Trent & Staffordshire
Tees Valley
Thames Valley Berkshire
The Marches
West of England
Worcestershire
York and North Yorkshire

Taken together, these 31 partnerships represent:

1.8m or 87% of all businesses (active enterprises) in England
20m employees (employee jobs figures) or 68% of all employees in England and;
A population of 45m or 87% of England's population.

A map of approved local enterprise partnerships is available from http://geocommons.com/maps/32888

Proposals for partnerships were assessed in line with the expectations set out in the 29 June 2010 letter from the Business Secretary and the Secretary of State for Communities and Local Government: http://www.bis.gov.uk/assets/biscore/regional/docs/10-1026-final-letter-local-enterprise-partnerships

Specifically, the Local Growth White Paper proposes that local enterprise partnerships will be able to consider a diverse range of roles, reflecting the differing local priorities in different areas, including:

working with Government to set out key investment priorities, including transport infrastructure;
coordinating proposals or bidding directly for the Regional Growth Fund;
Supporting high growth businesses;
Participation in the development of national planning policy and ensuring business is involved in the consideration of strategic planning applications;
Lead changes in how businesses are regulated locally;
Strategic housing delivery, including pooling and aligning funding streams;
Working with local employers, Jobcentre Plus and learning providers to help local workless people into jobs;
Coordinating approaches to leverage funding from the private sector;
Exploring opportunities for developing incentives on renewable energy projects and Green Deal; and
Involvement in the delivery of other national priorities such as digital infrastructure.

Revised proposals from partnerships which have not yet been approved will be welcomed by Government as they become ready_. _

The local enterprise partnership capacity fund will help the partnerships to understand business issues in their area. The fund will be £4m over four years, and ministers are seeking bids which address gaps in intelligence available to partnerships; facilitate business engagement and interaction with partnerships; or boost board capacity to prioritise actions which will support business-led growth and jobs within a partnerships' area. The closing date for bids to the first round is March 31.

BIS' online newsroom contains the latest press notices, speeches, as well as video and images for download. It also features an up to date list of BIS press office contacts. See [http://www.bis.gov.uk/newsroom](http://www.bis.gov.uk/newsroom) for more information.
Notes to Editors
Contact Information
Name BIS Press Office Job Title
Division COI Phone
Fax
Mobile
Email NDS.BIS@coi.gsi.gov.uk
Name Joanna Fletcher Job Title
Division Department for Business, Innovation and Skills Phone 020 7215 5951 Fax
Mobile
Published 17 March 2011