News story
Business Minister Margot James renews UK's commitment to corporate responsibility in extractive industry
Report provides a breakdown of payments and receipts in 2015 between UK-based companies in the extractive sector and the UK government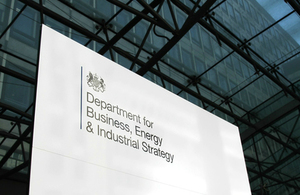 UK publishes second Extractive Industry Transparency Initiative report to improve transparency about the way governments benefit from their natural resources

Report shows payments and receipts between Government and UK-based oil, gas and mining firms totalling £904m

60 extractive companies contributed data
Business Minister Margot James today (31 March 2017) joined UK-based oil, gas and mining companies to renew the UK's commitment to corporate responsibility across the sector.
This morning Margot James delivered a speech in Aberdeen to an audience of industry representatives to mark the publication of the second Extractive Industry Transparency Initiative (EITI) report.
The report provides a detailed breakdown of payments and receipts in 2015 between UK-based companies in the extractive sector and the UK government totalling £904 million.
A total of 42 oil and gas companies and 18 mining and quarrying companies voluntarily contributed their data to help compile the report – almost 90% of eligible companies.
The global scheme asks the 51 participating countries to publish the data to improve transparency about the way governments benefit from their natural resources.
Business Minister and UK EITI Champion Margot James said:
We are a proud leading member of the EITI. Improving corporate transparency across all sectors makes us even more attractive to foreign investors on our path to building a truly global Britain.

I'd like to thank all the oil, gas, mining and quarrying companies who have contributed to this report and continue to help maintain our status as a global champion for greater transparency.
The UK's extractive industry contributed almost £17 billion to the economy in 2015, with the UK the world's 21st largest producer of oil and gas.
Further information
The EITI launch event took place on Friday 31 March 2017. The audience included private sector representatives and civil society organisation

Publishing an EITI report is one of the steps required for the UK to gain "Compliant" status in conjunction with the initiative's rules.
Published 31 March 2017