News story
Business Minister hails North East Regional Growth Fund success
Tharsus, based in Blyth in South Northumberland, was awarded a grant of £690,000 towards a total £3 million investment to refurbish its site…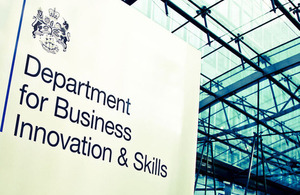 Tharsus, based in Blyth in South Northumberland, was awarded a grant of £690,000 towards a total £3 million investment to refurbish its site with new technology and equipment. The investment will help Tharsus improve its advanced manufacturing capability, to create 80 jobs, including apprenticeships, and has helped increase its overseas orders.
One such order is the redesign and manufacture of a powerful washer unit, secured following a highly competitive global procurement process. The high-powered parts washer cleans and de-greases with faultless precision and is used by Formula 1 teams Mercedes F1, Red Bull Racing and McLaren along with Network Rail and Airbus.
The Business Minister officially opened Tharsus' new site and was given a site tour of the production floor to meet staff, including several young apprentices pursuing a career in engineering.
The Minister then went on to visit Bridon International, a global technology leader in the manufacture of steel wire and fibre rope. Bridon International was awarded £2.2 million from the Regional Growth Fund towards constructing a £30 million state-of-the-art facility at Neptune Quay in Newcastle that will produce the largest and most complex ropes in the world. The project will create 50 jobs in the plant and safeguard 150 jobs at the near-by Willington Quay facility.
Business Minister Michael Fallon oversaw the switching on of the factory's rope-closing machine - the largest of its kind in existence. Bridon Neptune Quay is now taking overseas orders and the factory's portside location will help Bridon to significantly improve its logistics.
Business Minister Michael Fallon said:
"This is a big day for the North East. The Regional Growth Fund is playing a pivotal role in supporting British manufacturing. Government support for Tharsus and Bridon in the North East has given both firms the confidence they need to invest, hire skilled staff and grow.
"Not only are both projects creating much needed jobs for the area but the multiplier effect should not be underestimated in attracting investment and new business to the North East. Seeing both of these projects come to completion is very encouraging and I wish Tharsus and Bridon every success for the future."
Tharsus chief executive Brian Palmer said:
"We are honoured that Mr Fallon could join us to officially open the new site and see the facilities first hand, as well as meet some of our new apprentices who have been able to pursue a career in manufacturing thanks to this funding.
"The investment has helped us realise our ambitions to design a state of the art third facility and recruit and train more local talent. The added space, skills and equipment are instrumental in helping us to secure much larger contracts against global competition and create more jobs in an area that has high levels of unemployment."
Bridon International Chief Executive Jon Templeman said:
"Bridon has been making ropes in the North East for decades, and at Neptune Quay we intend to continue to demonstrate the very best in British manufacturing before a global audience. Not only will this state-of-the-art facility produce the largest and most complex ropes in the world, it will also provide a significant business and employment boost to Newcastle."
The Business Minister's visit comes on the back of the allocation of £1 billion from round three of the Regional Growth Fund. The Deputy Prime Minister announced the selected bids on 19 October at Nifco in Teesside which is expected to deliver around 240,000 jobs for the UK economy.
**Notes to Editors
**1. The Regional Growth Fund (RGF) is a £2.4bn fund operating across England from 2011 to 2015. It supports projects and programmes that lever private sector investment to create economic growth and sustainable employment. It aims particularly to help those areas and communities which were dependent on the public sector to make the transition to sustainable private sector-led growth and prosperity.
More information on the Regional Growth Fund can be found here: http://www.bis.gov.uk/rgf

For more information about Tharsus please contact Kari Owers on 0191 232 5690 or kari@o-communications.co.uk.

For more information about Bridon please contact Elizabeth Jones at the Bridon Press Office on 020 7249 7769 or 07825 077686, or email elizabeth.jones@withpr.co.uk.

The Government's economic policy objective is to achieve 'strong, sustainable and balanced growth that is more evenly shared across the country and between industries.' It set four ambitions in the 'Plan for Growth' (PDF 1.7MB), published at Budget 2011:
To create the most competitive tax system in the G20
To make the UK the best place in Europe to start, finance and grow a business
To encourage investment and exports as a route to a more balanced economy
To create a more educated workforce that is the most flexible in Europe
Work is underway across Government to achieve these ambitions, including progress on more than 250 measures as part of the Growth Review. Developing an Industrial Strategy gives new impetus to this work by providing businesses, investors and the public with more clarity about the long-term direction in which the Government wants the economy to travel.
BIS's online newsroom contains the latest press notices, speeches, as well as video and images for download. It also features an up to date list of BIS press office contacts. See http://www.bis.gov.uk/newsroom for more information.
Notes to Editors
Contact Information
Name BIS Press Office Job Title
Division Department for Business, Innovation & Skills Phone
Fax
Mobile
Email bispress.releases@bis.gsi.gov.uk
Name Ed Smith Job Title
Division Department for Business, Innovation and Skills Phone 020 7215 5945 Fax
Mobile
Email ed.smith@bis.gsi.gov.uk
Published 15 November 2012