News story
Business Minister announces £40 million boost for high growth SMEs
Longwall Ventures ECF, the 12th Enterprise Capital Fund, comprises £25 million government investment and £15 million from private investors.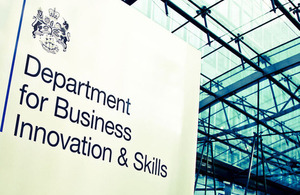 The new fund, Longwall Ventures ECF, is the twelfth Enterprise Capital Fund and comprises £25 million of government investment and £15 million from private investors. With this funding, Longwall Ventures ECF will be able to invest in funding rounds of up to £2 million to support these growth businesses. The government's investment in the funds is made and managed by Capital for Enterprise Limited, the Government's investment company.
The Minister made the announcement during a speech at the Investing for Success: The SEIS briefing, at the London Stock Exchange, where entrepreneurs discussed the Seed Enterprise Investment Scheme (SEIS). This aims to encourage investors to put their money into new firms by offering significant tax breaks.
Business and Enterprise Minister Michael Fallon said:
"We are determined to make the UK the best place in Europe to start, finance and grow a business.
"Helping entrepreneurs to access a diverse range of finance options is vital.
"The new £40 million Enterprise Capital Fund will address a gap in the market and help our small businesses find the finance they need to realise their potential.
"And we are also taking action to encourage more investors to bank roll small businesses. Today's event with entrepreneurs and investors at the London Stock Exchange was an important opportunity to drive take up of the Seed Enterprise Investment scheme. The scheme reduces the risk of these types of investments, and offers significant tax benefits."
Michael Penington, a partner of Longwall Ventures, said:
"We are delighted to announce the launch of Longwall Ventures ECF, and are excited about the opportunity we have to create strong companies from the UK's excellent science and engineering base.
"Difficult economic times present opportunities for disruptive technologies, and we are very pleased to have investors that share that vision. The ECF programme has been crucial for us in attracting private investment and raising a fund that has the scale to commercialise such disruptive technologies. We are delighted to be continuing our relationship with Capital for Enterprise."
Rory Earley, Chief Executive Officer of Capital for Enterprise, said:
"We are very pleased to be able to support this second fund for the partners and to work alongside the private investors who are also demonstrating their confidence in the team.
"This team will continue to support the development of technologies which can generate real future growth in the economy."
Enterprise Capital Funds were established to address a market weakness in the provision of equity finance to innovative small and medium sized enterprises, and are a joint public-private venture. Since 2006, more than £160 million has been invested in over 140 companies.
Doug Richard, investor, entrepreneur and founder of School for Startups, also spoke at the London Stock Exchange about the benefits of the SEIS following a national road show to 3,000 entrepreneurs and investors in eight cities around the UK. The Government's enterprise tsar, Lord Young, has been working with Doug Richard to increase awareness of SEIS amongst the investor community including a new SEIS information website.
Doug Richard said:
"In today's tough climate, business owners need to look beyond the banks and traditional investment avenues when looking for funding to grow their business. The Seed Enterprise Investment Scheme is a breakthrough tax incentive which encourages investment in small businesses by reducing the risk to potential investors.
"Today's event will showcase why SEIS is such a radical incentive for investors and will involve entrepreneurs who have successfully raised significant sums through the scheme to accelerate the growth of their businesses."
The event highlighted how SEIS was already making a difference to UK SMEs including Gloople, a social sharing ecommerce platform who received £130,000 through SEIS, and G'NOSH a gourmet dips company.
The Minister also discussed how a new SME Finance Guide will help small businesses understand the different types of finance available to them. The guide is produced by BIS in partnership with the Institute for Chartered Accountants for England and Wales (ICAEW). It gives comprehensive details on funding options such as:
debt finance
equity finance
commercial mortgages, leasing and complementary sources of debt finance
mezzanine finance.
Alexander Justham, CEO London Stock Exchange plc, said:
"Effectively funding our fastest growing and most dynamic companies is crucial to nurturing the UK economy back to strong, sustained growth.
"Creating an equity financing ladder from Seed Enterprise Investment Schemes, angel investors through to IPOs on public markets will help us create a resilient, growth-orientated ecosystem in which our most ambitious small companies can thrive."
Notes to editors:
Enterprise Capital Funds were established to address a market weakness in the provision of equity finance to innovative small and medium sized enterprises, and are a joint public-private venture. Since 2006 more than £160 million has been invested in over 140 companies. Capital for Enterprise Ltd is an arm's length body established in 2008 as a centre of expertise to manage the Government's investment programmes. www.capitalforenterprise.gov.uk

The government has committed £200 million for investment into Enterprise Capital Funds between 2011 and 2015, and since May 2010 more than £90 million has been invested in over 70 companies through the programme.

Longwall Ventures is the second Enterprise Capital Fund run by the Longwall Partners, Michael Penington, Matthew Frohn and David Denny, following their first fund Oxford Technology ECF which recently sold its investment in Meciria, a company that had developed a directional drilling technology for a profit of around £8 million.

Enterprise Capital Funds aim to both lower the barriers to entry for entrepreneurial fund managers wanting to operate in the equity gap, and increase the supply of equity finance to innovative, early stage companies.

For more information on Enterprise Capital Funds, visit http://www.bis.gov.uk/policies/enterprise-and-business-support/access-to-finance/enterprise-capital-funds

In April 2012, government introduced the new Seed Enterprise Investment Scheme (SEIS) to encourage investment in new start-up companies. SEIS provides income tax relief of 50 per cent for individuals who invest in shares in qualifying companies, with an annual investment limit for individuals of £100,000 and cumulative investment limit for companies of £150,000. Eligible companies will need to have 25 or fewer employees and assets of up to £200,000 at the point of investment. In addition, government announced a capital gains tax holiday: gains realised on the disposal of assets in 2012-13 that are invested through SEIS in the same year will be exempt from capital gains tax.

The new information website on SEIS, SEISwindow, can be found at http://www.seiswindow.org.uk/

The final SEIS roadshow will take place at Portsmouth on 27 November 2012. Sign up details can be found here: http://www.schoolforstartups.co.uk/woo/

The SME Finance guide, produced by the ICAEW in partnership with BIS, can be downloaded from the ICAEW website.

The government's economic policy objective is to achieve 'strong, sustainable and balanced growth that is more evenly shared across the country and between industries'. It set four ambitions in the 'Plan for Growth' (PDF 1.7MB), published at Budget 2011:
to create the most competitive tax system in the G20
to make the UK the best place in Europe to start, finance and grow a business
to encourage investment and exports as a route to a more balanced economy
to create a more educated workforce that is the most flexible in Europe
Work is underway across government to achieve these ambitions, including progress on more than 250 measures as part of the Growth Review. Developing an Industrial Strategy gives new impetus to this work by providing businesses, investors and the public with more clarity about the long-term direction in which the Government wants the economy to travel.
Published 16 November 2012