News story
Business leaders join Ministers to hail Olympic boost for UK economy
Ministers today vowed to capitalise on the success of the Olympics by working with UK firms to realise an international business legacy that…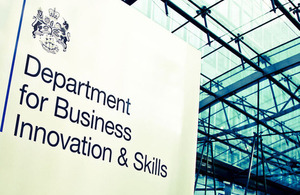 Ministers today vowed to capitalise on the success of the Olympics by working with UK firms to realise an international business legacy that could be worth £13bn to the UK economy in future years.
This builds on the substantial investment decisions we have seen in recent weeks, with £14bn of business deals announced at a time when the eyes of the world have been on the UK.
During the Olympics the Prime Minister, Deputy Prime Minister, Chancellor, Business Secretary and 35 other ministers have welcomed around 3,000 business leaders and global figures so far, including over half of the FTSE 100 companies and hundreds of international buyers, investors and policy makers, to 12 Global Business Summits at Lancaster House in London as part of an 18-day programme running into September.
Speakers have included IMF Managing Director Christine Lagarde, designer Stella McCartney and Apple designer Sir Jonathan Ive. Further events will continue into September, with the total number of attendees set to reach 4,000. A programme of 75 business seminars around the UK is also underway.
Today, Deputy Prime Minister Nick Clegg and Brazilian Vice President Michel Temer will jointly host a Brazil Business Summit bringing UK and Brazilian businesses together to forge new trading partnerships, including multi-million pound opportunities to help deliver the Rio 2016 Games. Already, Aecom UK has won an international competition to design the Rio 2016 Olympic Park Master Plan, Populous designed the Sochi stadium, and a number of British companies including Atkins have won around £600m contracts for Qatar 2022 in related infrastructure development and planning.
At the event, Asyst International + Rhealeza, a Brazilian multinational providing a range of ICT services, will announce plans to create 700 UK jobs over the next three years. Bristol firm Viper Subsea will announce that it has secured a major contract for the supply of underwater components for use in a deep-water development the Santos Basin, offshore Brazil. And the UK Intellectual Property Office will announce the appointment of a UK Intellectual Property Attache to Brazil to support UK firms doing business in this fast growing market.
Overall, hosting the Olympics is forecast to deliver around £13bn in economic benefit to the UK in the coming months and years as businesses take advantage of the unique opportunities provided.
This includes £1bn of extra sales for businesses taking part in the British Business Embassy programme, £4 billion of high value overseas opportunities for UK firms in markets including Brazil, Russia and China, £6bn of inward investment and a £2.3bn boost to tourism.
Deputy Prime Minister, Nick Clegg, said:
"It's not only our athletes who have shown themselves to be world-class, British businesses have played a key role in delivering our most successful games in history.
"Producing the most spectacular show on earth has given UK companies the skills and expertise to support Brazil as the baton is passed to Rio 2016.
"We have identified huge opportunities for UK firms to work on the next Olympic games in Sochi and Rio - a golden boost to British businesses that will create jobs and support economic growth."
Business Secretary, Vince Cable, said:
"Team GB has seen exceptional success at the Olympics in the last few weeks and, at a time when the international spotlight is firmly upon us, we have also seen huge levels of investment by businesses.
"Our task now is to drive home the message that Britain is open for business, and to enhance the conditions that companies need to invest and grow."
Foreign Secretary, William Hague, said:
"The extraordinary success of the 2012 Olympics has proved to the world that British events, products and services are second to none.
"We are making this message clear to partners in Brazil and the region in the months and years ahead, working with businesses of all sizes and sectors to help them get ahead of the competition on the international stage.
"Boosting our trading links with nations around the world is vital to securing the sustainable economic growth we need and this is a challenge the whole Government is committed to meeting."
Trade and Investment Minister, Lord Green, said:
"The Games have provided a golden opportunity to enhance our status as a leading business partner and destination for investment."
"At the British Business Embassy we have so far hosted 3,000 business people from large and small firms alike. The connections they have made will deliver real economic results.
"We are now working hard, alongside firms around the country to follow up the contacts, networks, announcements and momentum created by the Games."
The Government's international Olympic business legacy programme, including the Host2Host programme, Suppliers Directory and British Business Club have been delivering benefits for UK companies since the programme commenced in 2007.
Following the Olympics, initiatives to promote UK businesses will include:
* 'Great Britain Delivers' - a multi-media showcase taking the message to the world that the UK can deliver major global projects on time and on budget.
* Further British Business Embassy programmes at major international events including the Sochi Winter Olympics in 2014 and subsequent Games, including the Commonwealth Games in Glasgow in 2014.
* Trade missions to countries set to host the Olympics, Winter Olympics and the FIFA World Cup in the coming years, including Brazil, Russia and Qatar, to export the expertise and skills of UK firms. An estimated £1.5bn worth of contracts have been identified flowing from Sochi 2014 and Rio 2016.
Business groups and senior business figures taking part in British Business Embassy events have voiced their support for the programme and the importance of securing a business legacy from the Olympics.
John Cridland, CBI Director-General, said:
"British business has played a huge part in delivering a fantastic Olympic Games. We now want to build on that achievement, and the talent and skills that have underpinned it, to create a legacy which helps the UK to secure growth and new jobs in the years ahead."
John Walker, National Chairman, Federation of Small Businesses, said:
"The FSB is pleased that the British Business Embassy events have been selling 'Brand GB' as a strong and innovative brand to global business. It is important that the Government builds on the Olympic legacy created by encouraging big business to support small businesses in the supply chain to encourage innovation and boost exporting."
Graeme Leach, Chief Economist at the Institute of Directors, said:
"The Olympics has been a fantastic show, and it is now crucial that we get as much economic benefit from it as possible. Bringing visitors to the UK is a good way to make money in the short term, but it is the big contracts to bring investment in and sell British goods abroad that are the real prize. It is good news for business that so many foreign delegations and business leaders have come to London to see us set out our stall. We know our athletes are world-beaters, and now it is time to show that our companies are, too."
Starting with the Global Investment Conference when the Prince of Wales hosted delegates in the garden of Clarence House, the events have seen highlights from the Duchess of Cambridge bringing together creative industries in a royal reception to a life sciences summit attended by 15 Health Ministers from around the world.
As a result of this unprecedented drive to promote UK businesses to international investors, UK Trade and Investment is engaging with hundreds of companies on their overseas export plans, and supporting foreign investors with inward investment opportunities into the UK.
Notes to editors
The programme for all British Business Embassy events is at www.ukti.gov.uk Watch all British Business Embassy sessions live or on demand at http://www.youtube.com/user/UKTIWeb. Follow events live on Twitter @BritBizClub and join the conversation using hashtag #BritBizEmbassy.

Developments announced at today's Brazil Business Summit:
**The Intellectual Property Office **(IPO), the UK government body responsible for intellectual property rights (IPR), has appointed Sheila Alves as UK IP Attache to Brazil to be based at the British Embassy in Brasilia. Sheila joins a growing IP attache network in key global markets - two attaches already cover the markets for China and India. The roles were created in response to demand from UK businesses for support with IP-related issues, including liaison with local IPR enforcement agencies and assistance in navigating rapidly changing IP frameworks.
Viper Subsea, based in Portishead, Bristol, and specialising in design and delivery of underwater components, has won a contract for the supply of equipment for use in a deep-water 'pre-salt' field development located in the Santos Basin, offshore Brazil. This contract has already commenced with products being delivered later this summer. The contract is expected to open the door to millions of pounds worth of future business. Viper Subsea expects its export revenues to more than double over the next 12 months of which this contract makes a significant contribution, and will support a doubling in terms of employee numbers over the next two years, increasing from the existing 25 to over 50 members of staff.
Asyst International + Rhealeza, a Brazilian multinational providing ITC help desk, technical, administrative and management services, has announced plans to expand by a further 700 UK staff and an investment of £2 million over the next three years. Significant contract wins within the banking, educational and manufacturing sectors have driven the company's growth. The UK base, established in London in October 2010 with is first operational hub in Trowbridge, Wiltshire, will be the company's platform for European expansion.
Announcements in recent weeks include:
o Plans to redevelop the Battersea Power Station site to an eventual value of £8bn, providing 20,000 construction jobs and 13,000 ongoing jobs.
o Hitachi investment worth £4bn in train manufacturing.
o Cygnus oil field development worth £1.4bn
o The takeover of Wales and West Utilities by a consortium of companies led by Li Ka-shing
o Further commercial announcements by UK firms alongside British Business Embassy sector and country summits.

UK Trade & Investment (UKTI) is the Government Department that helps UK-based companies suceed in the global economy. We also help overseas companies bring their high quality investment to the UK's economy - acknowledged as Europe's best place from which to succeed in global business. UKTI offers expertise and contacts through its extensive network of specialists in the UK, and in British embassies and other diplomatic offices around the world. We provide companies with the tools they require to be competitive on the world stage. For more information on UKTI, visit www.ukti.gov.uk or visit the online newsroom at www.ukti.gov.uk/media.

The UK is already the fourth largest investor in Brazil. Our exports increased by 23 per cent in 2010, a further 9 per cent in 2011 and 13 per cent in the first quarter of 2012 in comparison to the same period last year.

The Government's economic policy objective is to achieve 'strong, sustainable and balanced growth that is more evenly shared across the country and between industries.' It set four ambitions in the 'Plan for Growth' (PDF 1.7MB), published at Budget 2011:

To create the most competitive tax system in the G20
To make the UK the best place in Europe to start, finance and grow a business
To encourage investment and exports as a route to a more balanced economy
To create a more educated workforce that is the most flexible in Europe.
Work is underway across Government to achieve these ambitions, including progress on more than 250 measures as part of the Growth Review.
Notes to Editors
Contact Information
Name BIS Press Office Job Title
Division Department for Business, Innovation & Skills Phone
Fax
Mobile
Email bispress.releases@bis.gsi.gov.uk
Name Oliver Fry Job Title
Division Department for Business, Innovation & Skills Phone 020 7215 5965 Fax
Mobile
Published 11 August 2012