News story
Business Leaders and Local Authorities gather to discuss Local Enterprise Partnerships
Attendees included representatives from the Confederation of British Industry (CBI); Federation of Small Businesses (FSB); British Chambers …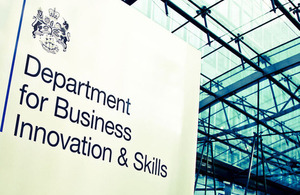 Attendees included representatives from the Confederation of British Industry (CBI); Federation of Small Businesses (FSB); British Chambers of Commerce; Engineering Employers Federation (EEF); Institute of Directors (IoD); Local Authority Councillors and Chief Executives; the Local Government Association (LGA); Core Cities; Centre for Cities; New Local Government Network (NLGN); and Local Government Improvement and Development.
Representatives discussed the issues and opportunities they see arising from the new structures and highlighted their areas' priorities for growth. They also talked about issues in relation to the size, scope and geography they would want from a local enterprise partnership.
Speaking after the meeting, Mark Prisk said:
---
"Our structural reforms call for a bottom-up approach. It's crucial that local authorities and business work hand-in-hand to establish proposals for enterprise partnerships. Together they have the insight and understanding to set out a vision for a strong local economic future, and then decide what structures can best achieve that vision.
"Today's positive meeting saw business and council leaders engage in a helpful conversation about forming effective partnerships that can provide real strategic leadership and drive local economic growth. I was grateful to hear their views and I'm looking forward to seeing the results of our discussion in action over the coming weeks and months."
Greg Clark said:
"The arbitrary division of the country into regions conformed to government bodies rather than natural economic areas. This gives the right of initiative back to councils and businesses to say how they wish to best organise themselves to pursue economic growth."
In the Coalition agreement, the Government announced that it would abolish the Regional Development Agencies and replace them with local enterprise partnerships - joint local authority and business-led organisations that match economic reality on the ground and can make a real difference.
On 29 June, the Secretary of State for Business, Vince Cable and Communities Secretary, Eric Pickles wrote to local authorities and businesses inviting them to submit proposals on forming local enterprise partnerships. Today's meeting was organised to give attendees a further chance to help shape future policy ahead of the 6 September deadline for proposals.
---
FULL LIST OF ATTENDEES
**Local Authorities **
South East
Alex King, Deputy Leader - Kent County Council
Michael Coughlin, Chief Executive - Reading Borough Council; Lead Chief Executive - South East Diamonds for Investment and Growth
East Midlands**
Jane Todd, Chief Executive - Nottingham City Council
Cllr David Parsons CBE, Leader - Leicestershire County Council
---
East of England
Cllr Robert Gordon, Leader - Hertfordshire County Council; Chair - East of England Local Government Association (EELGA)
Caroline Tapster, Chief Executive - Hertfordshire County Council; Lead Chief Executive - EELGA
North West**
Mike Emmerich, Chief Executive - Manchester's Commission for the New Economy
Ged Fitzgerald, Chief Executive - Lancashire County Council
---
**North East **
Cllr Paul Watson, Chair - Association of North East Councils
John Cuthbert, Chair - Northern Business Forum
West Midlands** **
Paul Sheehan, Chief Executive - Walsall Council.
Cllr Philip Atkins, Staffordshire County Council; Chair - West Midlands Councils
**South West **
Phil Norrey, Chief Executive - Devon County Council
Cllr Angus Campbell, Leader - Dorset County Council
**Yorkshire and Humber **
Cllr Ian Greenwood, Leader - Bradford Council
Kersten England, Chief Executive -York Council
Think tanks, LGA and business organisations
Kevin Hoctor,** BCC
**Adam Marshall, **BCC
Matthew Farrow, CBI
Patrick Newton, CBI
Andrew Carter, Centre for Cities
Chris Murray, **Core** Cities
**Sue Kirby, **EEF
**Steve Radley, **EEF
David Burch, **FSB
**Matthew Pinner, **FSB
Chris Dodson, IoD
**Alexander Ehmann, **IoD
---
Phillip Mind, **Local Government Association**
__
Ian Woolford, **Local Government Improvement and Development **
Anna Turley,** NLGN**
Notes to editors
The Government is not proposing that local enterprise partnerships should take on all existing RDA functions as some are best led at the national level - including inward investment, sector leadership, responsibility for business support, innovation, and access to finance. However, local enterprise partnerships will support the local delivery of many of these functions.
Local enterprise partnerships will tackle issues such as housing; planning; local transport and infrastructure priorities; employment and enterprise and the transition to the low carbon economy.
The Government is committed to ensuring the transition to local enterprise partnerships is as smooth as possible, working to clear timetable. A White Paper on sub-national economic development, setting out the approach in more detail, will be published later this year.
Legislation to abolish RDAs was announced in the Queen's speech and is expected to be introduced to Parliament in the autumn.
It's anticipated that some local enterprise partnerships will be in place by the end of the year to shadow the Regional Development Agencies, which will be wound up by March 2012.
Notes to Editors
Contact Information
Name BIS Press Office Job Title
Division COI Phone
Fax
Mobile
Email NDS.BIS@coi.gsi.gov.uk
Name Una Flynn Job Title
Division Department for Business, Innovation and Skills Phone 020 7215 5256 Fax
Mobile
Email Una.Flynn@bis.gsi.gov.uk
Published 28 July 2010